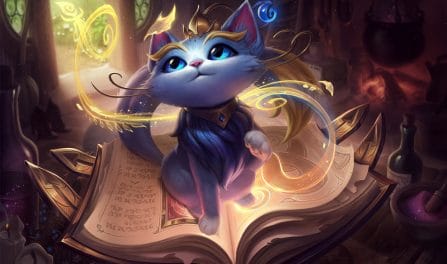 149,233 魔法猫咪 Builds Analyzed
The best items to use in your Yuumi build include: Moonstone Renewer, Chemtech Putrifier, Knight's Vow, and Ardent Censer. Additionally, as with our rune builds, you can also find great, focused, Yuumi item builds below for the particular enemy team comp you are fighting in your ongoing match. Players who added these items in their builds had a significantly better win rate than those who used other builds for Yuumi.
魔法猫咪

Items to Defeat Focused Team Comps

奥术彗星

无效化之法球

超然

焦灼

气定神闲

致命一击
If you are battling a varied enemy team comp, you should strongly consider getting yourself the Arcane Comet, Nullifying Orb, Transcendence, Scorch, Presence of Mind, and Coup de Grace runes. In recent matches, she won the greatest percentage of her rounds when built with these runes. Yet, if you are facing a more homogenous enemy team composition, such as an AD focused or a CC centric team, you should instead look a little down to get the best Yuumi runes to defeat your particular combination of foes.
魔法猫咪

Runes to Beat Dedicated Enemy Teams

黑暗收割

恶意中伤

眼球收集器

终极猎人

气定神闲

砍倒
Our Yuumi builds come from our examination of 149,233 recently ranked Yuumi rounds. Only the best winrate Yuumi builds that are also in common use are suggested by us. Because we have so many games in our database, we are quite sure that we can provide the highest quality builds for Yuumi to help ensure you win your next game!
Additionally, to see Yuumi builds customized to a unique skill level, pick your desired division from the dropdown menu found above. In that case, the recommended Yuumi build given will reflect that tier's meta gameplay.