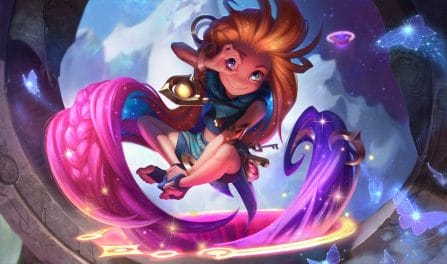 33,480 暮光星灵 Builds Analyzed
The best items to include in your Zoe build include: Luden's Tempest, Rabadon's Deathcap, Banshee's Veil, and Zhonya's Hourglass. Additionally, like our rune advice, you can also get quality, focused, Zoe item builds farther down for the particular enemy team composition you are facing in your current match. Those who included these pieces in their builds had a higher win rate than those who utilized other Zoe builds.
暮光星灵

Items to Defeat Focused Team Comps

电刑

猛然冲击

眼球收集器

无情猎手

神奇之鞋

未来市场
If you are fighting a well-mixed enemy team comp, you should strongly consider getting yourself the Electrocute, Sudden Impact, Eyeball Collection, Relentless Hunter, Magical Footwear, and Future's Market runes. In recent matches, she won the largest percentage of her rounds when equiped with these runes. However, if you are fighting a more single focused enemy team composition, such as an AD focused or a tank focused team, you should instead look a little down to use the best Zoe runes to win your particular game.
暮光星灵

Runes to Beat Dedicated Enemy Teams

电刑

猛然冲击

眼球收集器

无情猎手

神奇之鞋

未来市场
We established our Zoe build suggestions by analyzing 33,480 recently ranked League rounds with her in them. We only advise the best winrate Zoe builds that have been used by ranked League players enough times for us to reccomend them. With so many rounds in our dataset, we are quite confident in our recommended builds.
Additionally, to see Zoe builds tailored to a particular skill level, select a different division from the dropdown menu found above. If you change the selection, the ideal Zoe build given will be based on that tier's meta.