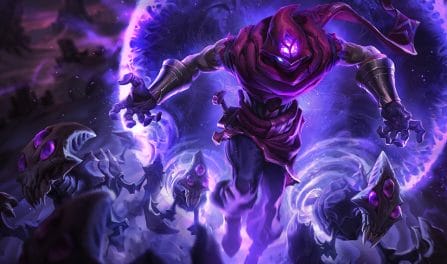 Las mejores runas, elementos y consejos para dominar a tu competencia
166,506 Malzahar Builds Analizadas
Our Malzahar builds come from our evaluation of 166.506 recently ranked Malzahar matches. Only the best winrate Malzahar builds that are also in common use are recommended by us. Since we have so many rounds in our database, we are absolutely confident that we can generate the best quality builds for l to help ensure you win your next game!
Additionally, to view Malzahar builds tailored to a unique skill level, pick your desired division from the dropdown menu found above. In that case, the best Malzahar build given will capture that tier's meta gameplay.
Los mejores items para

Malzahar
The most important items to incorporate into your champion's build are: Desconsuelo de Liandry,Sombrero mortal de Rabadon, and Cetro de cristal de Rylai. Those who added these items in their builds had a much higher win rate than players who went for other item builds for Malzahar.
Furthermore, similar to our rune recommendations, you can also get quality, focused, Malzahar item builds below for the specific enemy team comp you are facing in your ongoing game.
Malzahar

Items para derrotar a los Comps de equipos enfocados
Las mejores runas para

Malzahar

Cometa arcano

Banda de maná

Trascendencia

Piroláser

Calzado mágico

Mercado del futuro
If you are battling a varied enemy team arrangement, you should strongly consider getting Malzahar the Brujería, and Inspiración runes. In recent games, he won the greatest number of his matches when using these runes.
Yet, if you are trying to beat a singular enemy team composition, such as an AP focused or a crowd control focused team, you should instead scroll further down to see the best Malzahar runes to win your particular game.
Malzahar

Runas para vencer a los equipos enemigos dedicados

Invocar a Aery

Banda de maná

Trascendencia

Se avecina tormenta

Mercado del futuro

Perspicacia cósmica
Guía para jugar con

Malzahar
Llamada del vacío puede utilizarse para silenciar a varios enemigos si se lanza en el lugar correcto.
Agarre Infernal puede usarse para sujetar a los carries enemigos mientras tu equipo los elimina durante un gank, y también puede usarse para mantener inmovilizado a un carry enemigo durante una pelea de equipo.