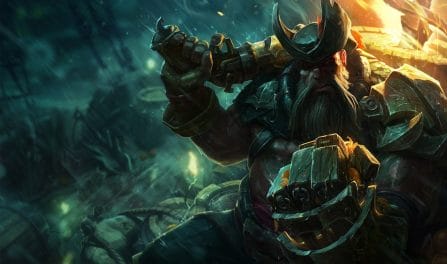 As melhores runas, itens e dicas para dominar seus inimigos
53,862 builds de Gangplank analisadas
Melhores itens para build de

Gangplank
The most essential items to use in your Gangplank build are: Divine Sunderer, Muramana, Ravenous Hydra, and Serpent's Fang. Additionally, as with our rune advice, you can also find quality, dedicated, Gangplank item builds below for the specific enemy team composition you are fighting in your ongoing match. Players who included these items in their kits had a better win rate than those who tried for other Gangplank builds.
Gangplank

Items para derrotar composições de time específicas
Melhores runas para

Gangplank

Aperto dos Mortos-Vivos

Demolir

Condicionamento

Crescimento Excessivo

Tônico de Distorção no Tempo

Mercado do Futuro
If you are fighting a varied enemy team composition, you should really consider grabbing yourself the Grasp of the Undying, Demolish, Conditioning, Overgrowth, Time Warp Tonic, and Future's Market runes. In recent matches, he won the largest fraction of his games when equiped with these runes. Yet, if you are facing a more homogenous enemy team comp, such as an AD centric or a crowd control centric team, you should instead look below to get the best Gangplank runes to defeat your particular enemy team.
Gangplank

Runas para derrotar formações de time específicas

Aperto dos Mortos-Vivos

Demolir

Condicionamento

Crescimento Excessivo

Entrega de Biscoitos

Tônico de Distorção no Tempo
Guia para jogar com

Gangplank
Tenha todos seus aliados lhe dizendo onde estão os inimigos com baixo HP para que possa usar Barragem de Canhão de longe.
Barril de Pólvora pode ser usado para dar split-push em certas situações.
We set our Gangplank build suggestions by analyzing 53,862 recently ranked LoL rounds with him in them. We only advise the highest winrate Gangplank builds that were used by ranked LoL players enough times for us to reccomend them. With so many games in our dataset, we are very confident in our recommended builds.
Additionally, Gangplank builds specific to a unique skill tier can be viewed by picking another division from the dropdown menu located above. The suggested Gangplank build shown will be specific to that tier's meta.