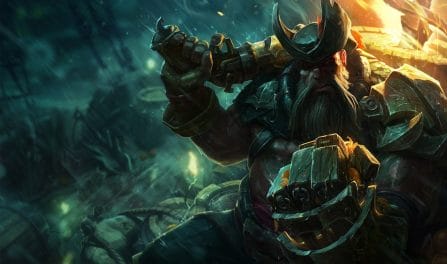 Os melhores Campões do LoL para sinergia e counterar Gangplank
46,850 counters e matchups com Gangplank analisados
To select the most and least favorable counters for Gangplank, we reviewed the outcomes of 46,850 recently completed, ranked League rounds. We determined which champions have the best and worst win rates against him. Furthermore, we determined those rare champions that are adept teammates and who could help stop you from being beaten. Having checked so many games provides us lots of faith in our Gangplank counter stats.
As shown above, Vel'Koz is the strongest counter to Gangplank with a 59.0% win rate against him. In a close second and third place, Xin Zhao and Yorick are the next greatest threats to Gangplank. These two have win rates of 58.0% and 58.0%, respectively. You should avoid taking him into a match where any of these champs has been selected.
Conversely, if you're fighting Nidalee, you can expect to do much better. Gangplank counters them with a very respectable win percentage of 52.0%. Likewise, you can anticipate doing very well when battling Lillia and Qiyana. They have the next worst win rates when countering Gangplank.
If you would like the best champion pairings for your own comrades to raise your win rate even further, glance at our Gangplank synergies above. Regardless of his lane, he does admirably when on the same team as Illaoi. This combination usually enhances his chances of winning by 2.0%. Swain and Nocturne are also great champs to fight alongside.
If you are looking to find out more about a specific Gangplank matchup, together with the finest builds to employ in that situation, please click the related row in the tables above. If the particular Gangplank counters you are looking for aren't visible below, you may get all possible counters at the above link.
Additionally, if you would like to find Gangplank synergies and counters for a particular rank tier, feel free to choose a specific division from the dropdown menu above.
Nós processamos milhões de partidas de League of Legends, extraídas diretamente dos servidores da Riot semanalmente. Analisamos os dados usando algoritmos avançados para oferecer os counters de Gangplank mais precisos on-line.
Guia para counterar

Gangplank
Remover Escorbuto de Gangplank é ótimo eu neutralizar habilidades de controle de grupo. Gangplank é forte contra composições e matchups de controles de grupo pesados. Faça um bait antes de usar todo os controles de grupo do seu time.
Esteja ciente de que Gangplank pode usar a Barragem de Canhão de qualquer lugar, já que é global. A grande lentidão do efeito em área faz com que Gangplank seja forte contra a maioria dos campeões com boa mobilidade. A lentidão dos barris é também muito eficaz em parar campeões móveis de dar engage em cima dele diretamente.