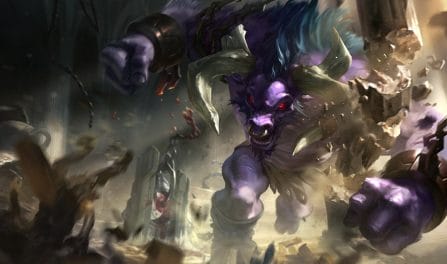 55,214 牛头酋长 Matches Analyzed
These champion stats were determined using 55,214 recently played, ranked Alistar matches. MOBA Champion downloads competitive game summaries directly from Riot's servers. Having a large number of LoL games to analyze gives us a lot of confidence in our ability to provide precise Alistar stats. Across all games, Alistar didn't perform very well, with an average win rate of 49.7%.
Alistar has been used very little in the latest ranked League matches. In the current meta, his popularity is 1.8%. Hardly anyone sees him as a threat. He has only been banned in roughly 0.6% of League of Legends games.
He is a weak damage dealer in the game with 2 kills on average per game. That is the 21st highest kill rate amongst all supports. (There are 29 champ in totals that are usually picked for in the support position.) Additionally, he has a relatively high average death count (6 deaths; 8th out of all supports). Furthermore, Alistar's KDA is typically high with an average KDA ratio of 2.5 as well as 13 assists per round. This is the 9th top assist count among support champions.
Our calculated overall Alistar win rate is the 18th best amonst supports. He is most dominant in the mid phase of the game with a 50.3% win rate in that stage. In comparison, he has a 46.5% win rate in the late phase and a 49.7% win rate overall. There is a moderate difference between these Alistar win rates (3.8%). This large difference shows us that his power spikes and wanes in different phases of the match. Plan well.
Alistar is played mostly in the support position. This happens in 89% of his games. Support Alistar also has the highest win rate (49.7%) of all positions. Currently, Alistar's meta game is centered around tanking. In particular, his kit should mainly be focused on shielding carries. Moreover, he is an ok tank champ. Dealing magical damage is the least significant part of Alistar's playstyle.
If you are not used to Alistar's skills and gameplay, you may find it difficult trying him out for the first time. Many players believe him to be a tough champ to master. Alistar primarily does magical damage (76% of his total damage). He doesn't deal a large amount of physical damage and shouldn't be considered a hybrid damage dealer.
Alistar deals a small amount of damage during a typical round (7,450 damage). You shouldn't focus on building him as a damage dealing champ to crush your enemies.Rather, you should focus on helping your teammates to come out on top.
Always a mighty warrior with a fearsome reputation, Alistar seeks revenge for the death of his clan at the hands of the Noxian empire. Though he was enslaved and forced into the life of a gladiator, his unbreakable will was what kept him from truly...
We comb through millions of League of Legends matches pulled directly from Riot's servers each week and analyze the data using advanced algorithms to bring you the most accurate 牛头酋长 stats online. We analyze the data by tier, so you can find the most relevant 牛头酋长 win rate and other stats.