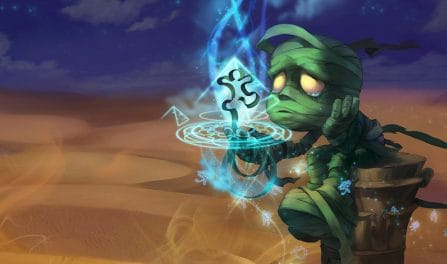 202,251 殇之木乃伊 Matches Analyzed
These champ stats were calculated using 202,251 recently played, ranked 殇之木乃伊 matches. We pull ranked game summaries directly from Riot's own database. Having a large number of League matches to analyze gives us a lot of confidence in our ability to give you accurate 殇之木乃伊 stats. Across all matches, he did do very well, with an above average win rate of 53.2%.
殇之木乃伊 has been picked a lot in the latest ranked League of Legends rounds. In the current meta, his popularity is 7.1%. He is sometimes banned during champion select. Obviously, some players see him as a real threat. In the latest ranked matches, 殇之木乃伊 was banned 4.8% of the time.
Because of 殇之木乃伊's K/D/A and utility, he has a great overall win rate. He does best in the late game, with a winrate of NaN% in that phase. Unfortunately, he does terribly in the late game, where 殇之木乃伊's win rate is NaN%., The difference between his best and worst game phases is a large NaN%. This large difference shows us that his power spikes and wanes in different phases of the game. Plan accordingly.
殇之木乃伊 is played mostly in the jungle position. This happens in [object Object]% of his matches. Jungle 殇之木乃伊 also has the highest win rate ([object Object]%) of all positions. At this time, 殇之木乃伊's meta game is focused on dealing damage. Specifically, his kit should primarily be focused on magical damage. Moreover, he is an ok tank champ. Dealing physical damage is the least significant part of 殇之木乃伊's gameplay.
You should expect to have to to spend only a little bit of time practicing and learning to master 殇之木乃伊. Many League of Legends players consider he is one of the simplest champ to use. 殇之木乃伊 primarily deals magic damage (76% of his total damage). He doesn't deal much of other damage types and should not be played as hybrid damage dealer..
殇之木乃伊 deals a good amount of damage in a regular ranked round (14,389 damage). You may want to focus on building him as a powerful champ to smash your enemies.
在远古的恕瑞玛,有一个孤独而又忧郁的灵魂,阿木木。他在世间游荡,只为找到一个朋友。他遭受了一种远古的巫术诅咒,注定忍受永世的孤单,因为被他触碰就意味着死亡,他的喜爱便是毁灭。所有自称见过阿木木的人都说他是一具活生生的死尸,身材矮小,通体捆绑着青灰色的绷带。世人围绕阿木木编造了许多神话故事、民间传说和史诗传奇。这些故事世代传颂,以至于再也没人能分得清哪些是真相,哪些是幻想。
If you are looking for a dominating damage dealer, then you should maybe consider this champ. He has one of the top kill totals in the game among other champs. Additionally, he has a relatively typical average champion death count (6 deaths). Additionally, 殇之木乃伊's KDA is typically very high with an average KDA ratio of 2.6 as well as 10.7 assists per match.
We comb through millions of League of Legends matches pulled directly from Riot's servers each week and analyze the data using advanced algorithms to bring you the most accurate 殇之木乃伊 stats online. We analyze the data by tier, so you can find the most relevant 殇之木乃伊 win rate and other stats.