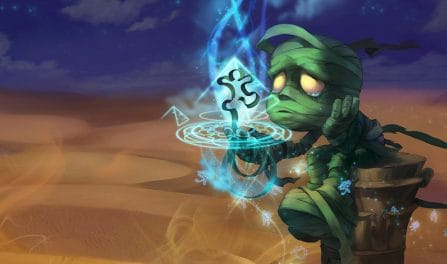 70,312 殇之木乃伊 Builds Analyzed
The most important items to include in your Amumu build include: Sunfire Aegis, Rylai's Crystal Scepter, Randuin's Omen, and Demonic Embrace. Moreover, like our rune builds, you can also get quality, focused, Amumu item builds further down for the specific enemy team comp you are fighting in your ongoing match. Players who added these pieces in their kits had a much better winrate than players who utilized other Amumu builds.
殇之木乃伊

Items to Defeat Focused Team Comps

余震

生命源泉

调节

坚定

无效化之法球

风暴聚集
If you are playing a varied enemy team comp, you should strongly consider getting yourself the Aftershock, Font of Life, Conditioning, Unflinching, Nullifying Orb, and Gathering Storm runes. In recent games, he won the greatest percentage of his rounds when equiped with these runes. Yet, if you are facing a more homogenous enemy team comp, such as an AD heavy or a CC centric team, you should instead look a little below to get the best Amumu runes to defeat your particular set of opponents.
殇之木乃伊

Runes to Beat Dedicated Enemy Teams

征服者

凯旋

传说:欢欣

致命一击

猛然冲击

贪欲猎手
We came up with our Amumu build recommendations by examining 70,312 recently ranked League games with him selected. We only propose the best winrate Amumu builds that have been used by ranked LoL players enough times for us to suggest them. With so many matches in our data, we are quite confident in our provided builds.
Additionally, to get Amumu builds dedicated to a unique division, choose your desired division from the dropdown menu located above. If you change the selection, the best Amumu build given will be based on that division's meta.