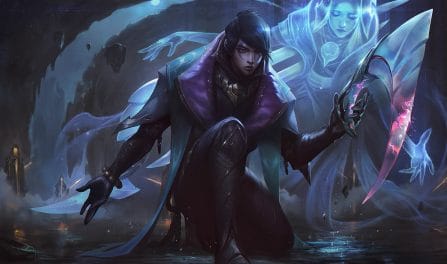 189,900 残月之肃 Matches Analyzed
To prepare these 残月之肃 stats, we analyzed 189,900 recent competitive League of Legends rounds with him chosen. MOBA Champion pulls competitive game stats directly from Riot's servers. This gives us great confidence in our 残月之肃 statistics. Across all games, 残月之肃 didn't perform very well, with a below average win rate of 48.3%.
残月之肃 has been picked somewhat often in the latest ranked League matches. In the current meta, his popularity is 6%. Hardly anyone sees him as a threat. He has only been banned in about 1.9% of League rounds.
Thanks to 残月之肃's K/D/A and utility, he has a somewhat poor overall win rate. He does very well in the late game, with a winrate of NaN% in that phase. Unfortunately, he does terribly in the late game, where 残月之肃's winrate is NaN%., The difference between his best and worst game phases is a large NaN%. This sizeable difference shows us that his power spikes and fades in different phases of the round. Plan well.
残月之肃 is played mostly in the bottom position. This happens in [object Object]% of his matches. Bottom 残月之肃 also has the highest win rate ([object Object]%) of all positions. Currently, 残月之肃's meta game is centered around dealing damage. In particular, his kit should primarily be focused on physical damage. Dealing magical damage is the least critical part of 残月之肃's playstyle.
You should expect to have to to dedicate a significant amount of time practicing and learning to get good with 残月之肃. Most League players believe he is a difficult champ to get good at. 残月之肃 primarily does physical damage (91% of his total damage). He doesn't deal a lot of other damage types and should not be played as hybrid damage dealer..
残月之肃 deals a decent amount of damage over the course of a regular ranked match (18,607 damage). You may want to focus on building him as a damage dealing champion to defeat your enemies.
如月影般神出鬼没、时刻剑拔弩张的厄斐琉斯沉默地弑杀一切自身信仰的敌人。他的语言只有精确的瞄准和枪火。虽然他饮下了让他失声的毒药,但他也因此得到了妹妹拉露恩的引导,从遥远的神庙中将月石打造的各种武器送到他手里。只要头顶的明月依然皎洁,厄斐琉斯就永不孤单。
If you are looking for a dominating carry, then you should definitely consider this champ. He has one of the absolute best kill totals in League amongst other champs. 'Moreover, he has a somewhat above average death total with an average of 6.1 deaths per LoL round. Furthermore, 残月之肃 has an average KDA ratio (2.1) with 6.6 assists.
We comb through millions of League of Legends matches pulled directly from Riot's servers each week and analyze the data using advanced algorithms to bring you the most accurate 残月之肃 stats online. We analyze the data by tier, so you can find the most relevant 残月之肃 win rate and other stats.