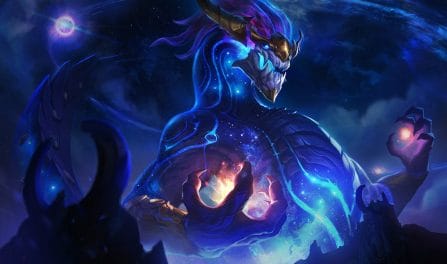 22,625 铸星龙王 Counters and Matchups Analyzed
To determine the most and least advantageous counters for 铸星龙王, we examined the scores of 22,625 recently played, ranked League of Legends games. We found which champs have the greatest and poorest win rates versus him. Additionally, we extracted those few that are adept teammates and who could help stop you from being beaten. Having examined so many rounds gives us a lot of certainty in our conclusions.
As can be seen above, 潮汐海灵 is the best challenger for 铸星龙王 with a 56.2% victory rate against him. Similarly, 邪恶小法师 and 刀锋舞者 are the next biggest counters to 铸星龙王. These two champs have win rates of 54.1% and 53.9%, respectively. You should not take him into a round where one of these other champions has been picked.
Conversely, if you're fighting against 解脱者, you can expect to do much better. 铸星龙王 counters them with a much higher win rate of 52.5%. Similarly, you can anticipate doing very well against 时间刺客 and 九尾妖狐. They have the next lowest win rates versus 铸星龙王.
If you would like good champ synergies for your own teammates to improve your win rate more, look at our 铸星龙王 synergies.
Regardless of his chosen position, he does best when paired with 无极剑圣. This pairing typically increases his chances of winning by a few percent. 永恒梦魇 and 不灭狂雷 are also superb champions to fight alongside.
To review the details and best 铸星龙王 counter builds for a specific matchup, you can click the corresponding row in the tables above. If you are interested in some 铸星龙王 counters not displayed here, you can click the "All Matchups" button to browse them.
To get 铸星龙王 pairings and counters from one skill level, you can use the dropdown menu above to filter the counters shown.
我们每周直接从拳头公司的服务器搜集数百万局比赛数据。用经典的统计方法和先进的机器学习算法,归纳出最准确最符合当前版本的铸星龙王的克制和搭配关系。