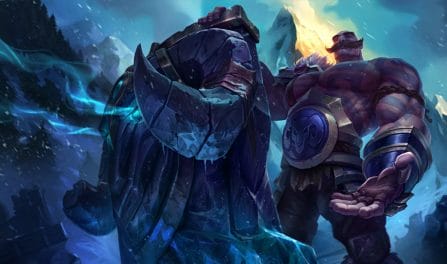 90,175 弗雷尔卓德之心 Matches Analyzed
These champion statistics were determined using 90,175 recently played, ranked 弗雷尔卓德之心 matches. MOBA Champion pulls ranked match summaries directly from Riot's own database. Having a large number of League rounds to analyze gives us a lot of confidence in our capability to give you accurate 弗雷尔卓德之心 statistics. Across all rounds, he did do very well, with an average win rate of 50.2%.
弗雷尔卓德之心 has been picked only occasionally in the latest ranked LoL rounds. In the current meta, his popularity is 2.8%. Hardly anyone sees him as a threat. He has only been banned in roughly 0.4% of LoL matches.
As a result of 弗雷尔卓德之心's K/D/A and utility, he has a fairly average overall win rate. He does very well in the late game, with a winrate of NaN% in that phase. Unfortunately, he does very poorly in the late game, where 弗雷尔卓德之心's win rate is NaN%., The difference between his best and worst game phases is a large NaN%. This sizeable difference shows us that his power spikes and wanes in different phases of the game. Plan accordingly.
You can see him most often laning in the support position. The highest win rate position for 弗雷尔卓德之心 is support ([object Object]%). At this time, 弗雷尔卓德之心's meta game is centered around tanking. In particular, his build should mainly be focused on shielding carries. Additionally, he is a decent support champ. Dealing physical damage is the least critical part of 弗雷尔卓德之心's playstyle.
If you are not used to his skills and tactics, you won't find it difficult picking him up for the first time. Many players consider him to not be a tough champion to get good at. 弗雷尔卓德之心 primarily does magic damage (76% of his total damage). He doesn't deal a lot of other damage types and should not be considered a hybrid damage dealer..
弗雷尔卓德之心 deals a small amount of damage over the course of a normal match (7,416 damage). You probably shouldn't focus on developing him as a powerful champion to defeat your opponents. Instead, you should focus on covering your allies to beat your enemy.
拥有大块肌肉和更大颗心脏的布隆,是弗雷尔卓德的一个受人爱戴的英雄。弗雷尔卓德北部的任何一家蜜酒坊里都有人会致敬他传奇般的强壮,据说他曾在一夜之间扫平一整片橡树森林,还曾用拳头把一整座山打成碎石子。一扇附有魔法的秘库大门被他拿在手中当做盾牌,布隆在北方的冻土上漫游,小胡子勾勒出的微笑和他的肌肉块头一样大, 真诚友善地帮助所有危难之中的人。
If you are looking for a dominating damage dealer, then you should definitely not consider this champ. He has one of the worst kill totals on the Rift amongst all champions. Additionally, he has a relatively typical average champion death rate (5.5 deaths). Additionally, 弗雷尔卓德之心's KDA is typically very high with an average KDA ratio of 2.9 as well as 14.1 assists per round.
We comb through millions of League of Legends matches pulled directly from Riot's servers each week and analyze the data using advanced algorithms to bring you the most accurate 弗雷尔卓德之心 stats online. We analyze the data by tier, so you can find the most relevant 弗雷尔卓德之心 win rate and other stats.