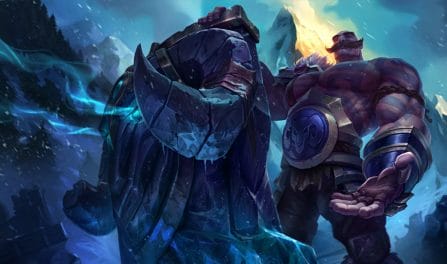 90,175 弗雷尔卓德之心 Builds Analyzed
Our 弗雷尔卓德之心 builds come from our analysis of 90,175 recently ranked 弗雷尔卓德之心 matches. Only the best winrate 弗雷尔卓德之心 builds that are also in common use are suggested by us. Because we have so many games in our dataset, we are confident that we can provide top quality builds for 之 to help ensure you win your next round!
Additionally, 弗雷尔卓德之心 builds dedicated to a particular skill tier can be seen by choosing another rank from the dropdown menu located above. The suggested 弗雷尔卓德之心 build shown will be focused on that tier's meta.
The most critical items to use in your champion's build include: 钢铁烈阳之匣,基克的聚合, and 骑士之誓. Those who added these pieces in their kits had a higher winrate than those who tried for other 弗雷尔卓德之心 builds.
Additionally, similar to our rune builds, you can also get quality, focused, 弗雷尔卓德之心 item builds a little further down for the specific enemy team composition you are battling in your current game.
弗雷尔卓德之心

Items to Defeat Focused Team Comps

守护者

生命源泉

复苏之风

坚定

饼干配送

星界洞悉
If you are facing a varied enemy team comp, you should really consider grabbing yourself the 坚决, and 启迪 runes. In recent matches, he won the greatest percentage of his games when equipped with these runes.
Although, if you are fighting a more single focused enemy team comp, such as an AP centric or a crowd control centric team, you should instead look a little down to view the best 弗雷尔卓德之心 runes to win your particular round.
弗雷尔卓德之心

Runes to Beat Dedicated Enemy Teams

守护者

生命源泉

调节

坚定

饼干配送

时间扭曲补药