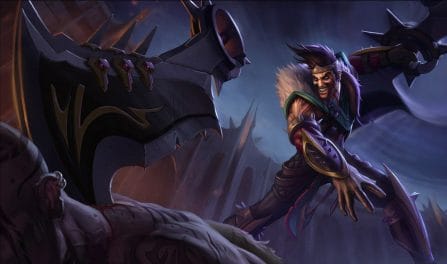 224,823 荣耀行刑官 Matches Analyzed
To prepare these 荣耀行刑官 statistics, we analyzed 224,823 recent ranked League games with him chosen. MOBA Champion downloads competitive match data directly from Riot's servers. This allows us to be very confident in our 荣耀行刑官 statistics. He did do a good job in recent matches. He racked up an average win rate of 51%.
In the current meta, 荣耀行刑官 is incredibly popular. He has been played in 7.2% of recently ranked matches. He is often banned during champion select. Obviously, many players see him as a major threat. In the latest ranked rounds, 荣耀行刑官 was banned 9.1% of the time.
Thanks to 荣耀行刑官's K/D/A and utility, he has a fairly average overall win rate. He does very well in the late game, with a winrate of NaN% in that phase. Unfortunately, he does very poorly in the late game, where 荣耀行刑官's win rate is NaN%., The difference between his best and worst game phases is a large NaN%. This large difference indicates that his power spikes and wanes in different parts of the round. Prepare accordingly.
You can see him most often laning in the bottom position. The highest win rate position for 荣耀行刑官 is bottom ([object Object]%). Currently, 荣耀行刑官's meta game is centered around dealing damage. In particular, his kit should primarily be focused on physical damage. Moreover, he is an ok support champ. Dealing magical damage is the least critical part of 荣耀行刑官's kit.
You should expect to have to to dedicate a significant amount of time practicing and learning to pick up 荣耀行刑官. Most League of Legends gamers think he is a challenging champ to use. 荣耀行刑官 primarily causes physical damage (97% of his total damage). He doesn't deal a lot of other damage types and should not be played as hybrid damage dealer..
荣耀行刑官 deals a decent amount of damage in a typical game (19,400 damage). You could focus on building him as a damage dealing champ to crush your opponents.
在诺克萨斯,有一种战士被称为"清算人"。他们在竞技场里互相厮杀,以鲜血作为赌注进行力量的考验,不过没有任何人能像德莱文那样受人追捧。曾经参过军的他,发现竞技场的观众们尤为喜爱他的耀武扬威和刻意表演,和他使用飞斧的无匹技艺。这种狂傲的完美带来的赞叹令他上瘾,因此德莱文发誓要不惜代价打败任何对手,以此确保自己的名字在帝国之中永世传唱。
He is a powerful damage dealer in the game with 7.6 kills on average per game. That is one of the highest kill rates amongst all bottoms. Furthermore, he has a fairly high average champion death count (6.3 deaths). Additionally, 荣耀行刑官's KDA is typically average with an average KDA ratio of 2.2 as well as 6.2 assists per match.
We comb through millions of League of Legends matches pulled directly from Riot's servers each week and analyze the data using advanced algorithms to bring you the most accurate 荣耀行刑官 stats online. We analyze the data by tier, so you can find the most relevant 荣耀行刑官 win rate and other stats.