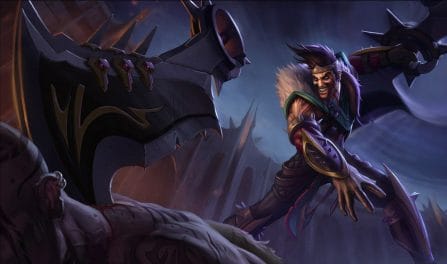 224,823 荣耀行刑官 Builds Analyzed
We set our 荣耀行刑官 build suggestions by analyzing 224,823 recently ranked League matches with him selected. We only propose the highest winrate 荣耀行刑官 builds that were built by ranked LoL players enough times for us to advise them. With so many rounds in our dataset, we are quite confident in our provided builds.
Additionally, 荣耀行刑官 builds dedicated to a unique skill rank can be seen by choosing a different division from the dropdown menu located above. The best 荣耀行刑官 build shown will be specific to that division's meta.
The most critical items to use in your champ's build include: 不朽盾弓,守护天使, and 收集者. Players who added these pieces in their setups had a much better winrate than players who worked towards other builds for 荣耀行刑官.
Moreover, as with our rune setups, you can also get quality, focused, 荣耀行刑官 item builds just below for the specific enemy team setup you are battling in your next match.
荣耀行刑官

Items to Defeat Focused Team Comps

丛刃

血之滋味

眼球收集器

贪欲猎手

传说:血统

致命一击
If you are playing a mixed enemy team composition, you should strongly consider getting him the 主宰, and 精密 runes. In recent matches, he won the largest fraction of his rounds when using these runes.
Although, if you are playing a more homogenous enemy team composition, such as an AD centric or a CC heavy team, you should instead look further down to view the best 荣耀行刑官 runes to win your particular game.
荣耀行刑官

Runes to Beat Dedicated Enemy Teams

丛刃

血之滋味

眼球收集器

贪欲猎手

致命一击

传说:血统