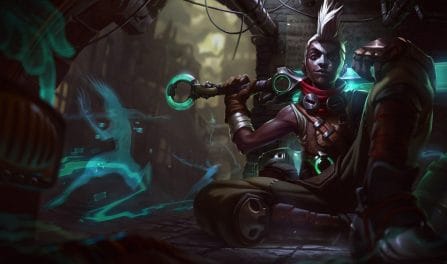 124,204 时间刺客 Builds Analyzed
The most essential items to use in your Ekko build are: Upgraded Aeropack, Rabadon's Deathcap, Lich Bane, and Nashor's Tooth. Additionally, as with our rune advice, you can also find quality, dedicated, Ekko item builds below for the specific enemy team composition you are fighting in your current match. Players who added these items in their kits had a significantly better win rate than those who worked towards other Ekko builds.
时间刺客

Items to Defeat Focused Team Comps

黑暗收割

猛然冲击

眼球收集器

贪欲猎手

绝对专注

水上行走
If you are fighting a well-mixed enemy team composition, you should really consider grabbing him the Dark Harvest, Sudden Impact, Eyeball Collection, Ravenous Hunter, Absolute Focus, and Waterwalking runes. In recent matches, he won the largest percentage of his rounds when using these runes. Yet, if you are battling a more homogenous enemy team comp, such as an AP centric or a crowd control focused team, you should instead look further down to view the best Ekko runes to win your particular round.
时间刺客

Runes to Beat Dedicated Enemy Teams

电刑

猛然冲击

眼球收集器

贪欲猎手

未来市场

时间扭曲补药
Our Ekko builds result from our analysis of 124,204 recently ranked Ekko rounds. Only the top win rate Ekko builds that are also in common use are recommended by us. Because we have so many matches in our data, we are very confident that we can produce the highest quality builds for Ekko to help you win your next game!
Additionally, Ekko builds dedicated to a unique skill division can be displayed by choosing a different division from the dropdown menu located above. The suggested Ekko build shown will be specific to that division's meta.