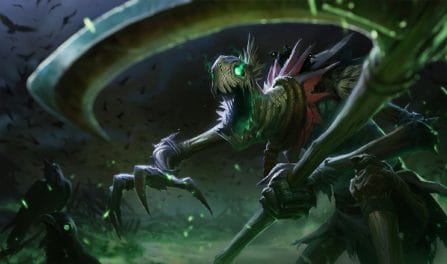 150,001 远古恐惧 Matches Analyzed
These champion stats were calculated using 150,001 recently played, ranked 远古恐惧 matches. MOBA Champion downloads competitive match results directly from Riot's own database. Having a large number of League games to evaluate gives us a lot of confidence in our ability to provide accurate 远古恐惧 statistics. He did do a good job in recent matches. He racked up an average win rate of 50.5%.
In the current meta, 远古恐惧 is very popular. He has been used in 5.1% of recently ranked rounds. He is sometimes banned during champion select. Obviously, some players see him as a significant threat. In the latest ranked rounds, 远古恐惧 was banned 4.9% of the time.
Because of 远古恐惧's K/D/A and utility, he has a fairly average overall win rate. He does best in the late game, with a winrate of NaN% in that phase. Unfortunately, he does very poorly in the late game, where 远古恐惧's win rate is NaN%., The difference between his best and worst game phases is a large NaN%. This sizeable difference shows us that his power spikes and fades in different parts of the match. Plan accordingly.
远古恐惧 is most commonly played in the jungle position. This happens in [object Object]% of his rounds. Jungle 远古恐惧 also has the highest win rate ([object Object]%) of all positions. Currently, 远古恐惧's meta game is centered around dealing damage. Specifically, his gameplay should mainly be focused on magical damage. Furthermore, he is an ok support champ. Dealing physical damage is the least significant part of 远古恐惧's playstyle.
If you are not familiar with his skills and tactics, you probably will find it difficult picking him up for the first time. Many competitors believe him to be a difficult champ to get good at. 远古恐惧 primarily does magic damage (93% of his total damage). He doesn't deal a lot of other damage types and should not be considered a hybrid damage dealer..
远古恐惧 deals a decent amount of damage over the course of a typical game (17,124 damage). You may want to focus on developing him as a damage dealing champion to smash your opponents.
某物已在符文之地苏醒,远古且可怖。它潜伏于人类世界的边缘,被浓烈的妄想所吸引,以受害者的惊骇为食,人们将这永恒的恐怖之物称为费德提克。这个狂乱的拼凑之物挥舞着镰刀收割恐惧,摧毁不幸与之相逢的人的神志。当心乌鸦的声响,或是那<i>近乎</i>人形的怪物所发出的呓语吧……费德提克已经归来。
If you are looking for a dominating damage dealer, then you should maybe consider this champion. He has one of the top kill rates on the Rift amongst all champs. 'Moreover, he has a somewhat typical death total with an average of 5.8 deaths per League of Legends game. Moreover, 远古恐惧 has a high KDA ratio (2.6) with 9 assists.
We comb through millions of League of Legends matches pulled directly from Riot's servers each week and analyze the data using advanced algorithms to bring you the most accurate 远古恐惧 stats online. We analyze the data by tier, so you can find the most relevant 远古恐惧 win rate and other stats.