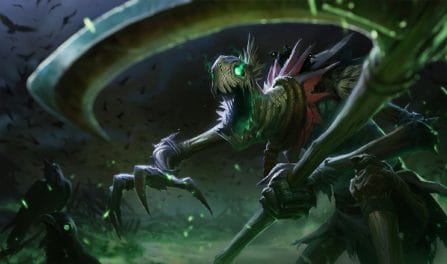 150,001 远古恐惧 Builds Analyzed
Our 远古恐惧 builds result from our evaluation of 150,001 recently ranked 远古恐惧 games. Only the top winrate 远古恐惧 builds that are also in common use are recommended by us. Since we have so many rounds in our database, we are quite sure that we can provide high quality builds for 远 to help ensure you win your next round!
Additionally, to see 远古恐惧 builds dedicated to a particular division, pick a different tier from the dropdown menu located above. If you change the selection, the recommended 远古恐惧 build given will be based on that tier's meta gameplay.
The most important items to incorporate into your champion's build include: 海克斯科技火箭腰带,灭世者的死亡之帽, and 中娅沙漏. Players who included these items in their setups had a much better win rate than those who utilized other item builds for 远古恐惧.
Furthermore, similar to our rune recommendations, you can also find great, focused, 远古恐惧 item builds below for the specific enemy team comp you are playing in your current match.
远古恐惧

Items to Defeat Focused Team Comps

电刑

恶意中伤

眼球收集器

终极猎人

凯旋

致命一击
If you are fighting a varied enemy team arrangement, you should strongly consider getting him the 主宰, and 精密 runes. In recent games, he won the greatest fraction of his games when equipped with these runes.
Although, if you are battling a more homogenous enemy team composition, such as an AP focused or a crowd control focused team, you should instead look further down to use the best 远古恐惧 runes to win your particular game.
远古恐惧

Runes to Beat Dedicated Enemy Teams

电刑

恶意中伤

眼球收集器

终极猎人

凯旋

致命一击