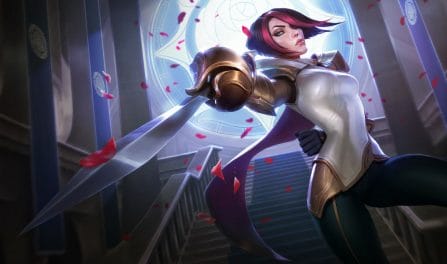 82,393 无双剑姬 Counters and Matchups Analyzed
To determine the most and least favorable counters for Fiora, we summarized the scores of 82,393 recently played, ranked League of Legends games. We found which champs have the greatest and poorest win rates versus her. Furthermore, we extracted those few that are adept teammates and who could help stop your champ from being crushed. Having checked so many matches provides us complete confidence in our conclusions.
As you can see above, Kayle is the best counter to Fiora with a 53.0% win fraction against her. In a close second and third place, Malphite and Wukong are the next biggest threats to Fiora. They have win rates of 53.0% and 52.0%, respectively. You should avoid bringing her into a game where any of these other champions has already been selected.
On the other hand, if you're fighting against Akshan, you should anticipate doing much better. Fiora counters them with a solid win rate of 59.0%. Similarly, you can anticipate doing very well when facing Gwen and Nidalee. These champs have the next lowest winrates when trying to counter Fiora.
If you would like great champion pairings for your own teammates to increase your win rate even further, take a peek at at the Fiora synergies above. Regardless of her lane, she does very well when paired with Yorick. This combination typically improves her chances of winning by 5.0%. Vel'Koz and Zilean are also awesome champions to pair with.
To get the details and best Fiora counter builds about a specific matchup, you should click the corresponding row in one of the tables above. If you are looking for any Fiora counters that are not listed here, you can click the "All Matchups" button to browse them.
Additionally, if you need to find Fiora synergies and counters for a specific skill level, please feel free to select an individual division from the dropdown above.
我们每周直接从拳头公司的服务器搜集数百万局比赛数据。用经典的统计方法和先进的机器学习算法,归纳出最准确最符合当前版本的无双剑姬的克制和搭配关系。