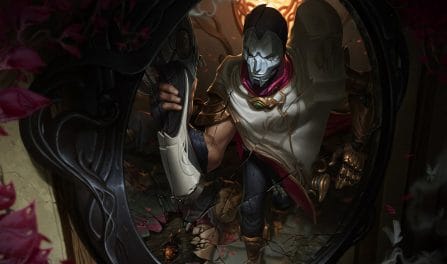 562,895 戏命师 Matches Analyzed
These champion stats were prepared using 562,895 recently played, ranked 戏命师 games. MOBA Champion downloads ranked game summaries directly from Riot's own database. Having a large number of LoL rounds to evaluate gives us great confidence in our ability to give you accurate 戏命师 stats. Across all games, he did perform very well, with an average win rate of 50.9%.
In the current meta, 戏命师 is incredibly popular. He has been played in 17.7% of recently ranked games. He is sometimes banned during champ select. Obviously, some players see him as a real threat. In the latest ranked games, 戏命师 was banned 5.9% of the time.
As a result of 戏命师's K/D/A and utility, he has a fairly average overall win rate. He does very well in the late game, with a winrate of NaN% in that phase. Unfortunately, he does terribly in the late game, where 戏命师's win rate is NaN%., The difference between his best and worst game phases is a large NaN%. This large difference shows us that his power spikes and wanes in different parts of the match. Plan accordingly.
戏命师 is played mostly in the bottom position. This occurs in [object Object]% of his games. Bottom 戏命师 also has the highest win rate ([object Object]%) of all positions. Currently, 戏命师's meta game is focused on dealing damage. In particular, his kit should primarily be focused on physical damage. Additionally, he is an ok magical damage dealer champion. Tanking is the least critical part of 戏命师's kit.
If you are not comfortable with his skills and tactics, you may find it difficult trying him out for the first time. Most players consider him to not be a tough champion to get good at. 戏命师 mostly deals physical damage (88% of his total damage). He doesn't deal much of other damage types and should not be played as hybrid damage dealer..
戏命师 deals a good amount of damage in a regular ranked round (17,925 damage). You could focus on building him as a damage dealing champion to defeat your foes.
作为一名心思缜密的癫狂杀手,烬坚信谋杀是一门艺术。他曾在艾欧尼亚的监狱中服刑,但却因为执政议会里涌动着的暗流而得到释放,成为了权术斗争所利用的刺客。烬将手中的枪当成画笔,尽情地挥洒他所追求的残忍艺术,让受害者肝胆俱裂,令旁观者震悚难平。他在自己制作的阴森剧目里肆意取乐,让"恐怖"二字有了最合适不过的信使。
He is a powerful damage dealer on the Rift with 7.5 kills on average per match. That is one of the highest kill rates amongst all bottoms. 'Moreover, he has a fairly typical death total with an average of 5.4 deaths per LoL game. Additionally, 戏命师 has a high KDA ratio (2.9) with 8.1 assists.
We comb through millions of League of Legends matches pulled directly from Riot's servers each week and analyze the data using advanced algorithms to bring you the most accurate 戏命师 stats online. We analyze the data by tier, so you can find the most relevant 戏命师 win rate and other stats.