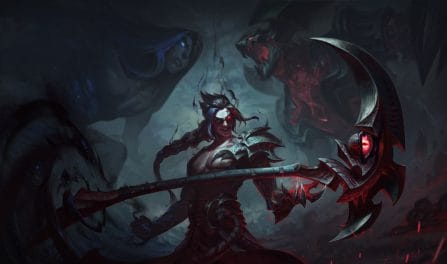 416,206 影流之镰 Matches Analyzed
These champion stats were determined using 416,206 recently played, ranked 影流之镰 matches. MOBA Champion pulls competitive game data directly from Riot's own database. Having a large number of League rounds to analyze gives us great confidence in our ability to provide accurate 影流之镰 statistics. He did do a great job in recent matches. He has an average win rate of 50.4%.
In the current meta, 影流之镰 is incredibly popular. He has been used in 13.1% of recently ranked matches. Most League players see him as a threat. He has been banned in approximately 20.2% of League rounds.
Because of 影流之镰's K/D/A and utility, he has a fairly average overall win rate. He does best in the late game, with a winrate of NaN% in that phase. Unfortunately, he does very poorly in the late game, where 影流之镰's win rate is NaN%., The difference between his best and worst game phases is a large NaN%. This large difference shows us that his power spikes and fades in different phases of the round. Prepare well.
You will see him typically used in the jungle position. The highest win rate position for 影流之镰 is jungle ([object Object]%). Currently, 影流之镰's meta game is centered around dealing damage. In particular, his kit should primarily be centered around physical damage. Additionally, he is an ok tank champion. Dealing magical damage is the least important part of 影流之镰's kit.
You should anticipate having to spend a significant amount of time practicing and learning to get good with 影流之镰. Many LoL players think he is a difficult champ to use. 影流之镰 primarily deals physical damage (90% of his total damage). He doesn't deal much of other damage types and should not be considered a hybrid damage dealer..
影流之镰 deals a good amount of damage over the course of a regular ranked game (18,005 damage). You could focus on building him as a damage dealing champion to smash your enemies.
悉达·凯隐是修行暗影魔法的精英,他战斗的意义,是为了实现自己真正的命运——为了有朝一日能够率领影流教派,开创艾欧尼亚霸业的新世代。凯隐挥舞着活体暗裔武器拉亚斯特,毫不在意它给自己身体和思想带来的腐化。这样后果只可能有两种:要么,凯隐让这把武器屈服于自己的意志;要么,这副恶毒的刀刃将他彻底吞噬,为符文之地的毁灭奏响序曲。
If you are looking for a dominating damage dealer, then you should definitely consider this champ. He has one of the absolute best kill counts in the game among other champs. 'Moreover, he has a fairly above average death total with an average of 6.3 deaths per League game. Additionally, 影流之镰 has an average KDA ratio (2.3) with 7.4 assists.
We comb through millions of League of Legends matches pulled directly from Riot's servers each week and analyze the data using advanced algorithms to bring you the most accurate 影流之镰 stats online. We analyze the data by tier, so you can find the most relevant 影流之镰 win rate and other stats.