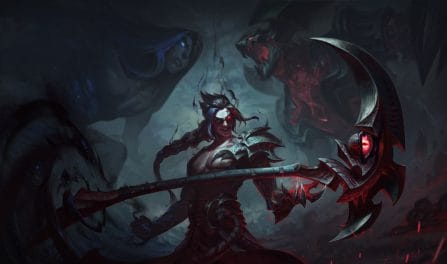 416,206 影流之镰 Builds Analyzed
Our 影流之镰 builds result from our analysis of 416,206 recently ranked 影流之镰 matches. Only the highest win rate 影流之镰 builds that are also in common use are suggested by us. Since we have so many games in our data, we are very confident that we can generate the best quality builds for 镰 to help you win your next match!
Additionally, to get 影流之镰 builds tailored to a particular division, pick a different division from the dropdown menu above. In that case, the best 影流之镰 build given will reflect that division's meta.
The best items to incorporate into your champion's build include: 渴血战斧,黑色切割者, and 贪欲九头蛇. Players who added these items in their setups had a much better win rate than those who worked towards other 影流之镰 builds.
Moreover, as with our rune builds, you can also get great, dedicated, 影流之镰 item builds below for the specific enemy team comp you are fighting in your current game.
影流之镰

Items to Defeat Focused Team Comps

征服者

凯旋

传说:韧性

坚毅不倒

未来市场

星界洞悉
If you are playing a well-mixed enemy team composition, you should really consider grabbing yourself the 精密, and 启迪 runes. In recent games, he won the greatest fraction of his games when using these runes.
However, if you are trying to beat a different enemy team comp, such as an AD focused or a CC heavy team, you should instead browse further down to use the best 影流之镰 runes to defeat your particular set of opponents.
影流之镰

Runes to Beat Dedicated Enemy Teams

黑暗收割

猛然冲击

眼球收集器

无情猎手

风暴聚集

超然