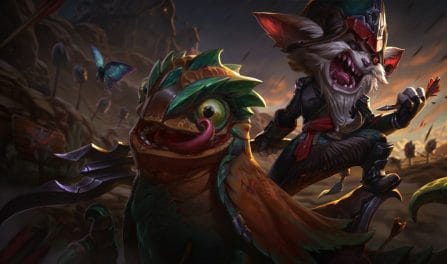 73,043 暴怒骑士 Matches Analyzed
These champ stats were prepared using 73,043 recently played, ranked 暴怒骑士 games. MOBA Champion pulls ranked game data directly from Riot's own database. Having a large number of League of Legends rounds to evaluate gives us great confidence in our capability to give you accurate 暴怒骑士 statistics. Across all rounds, he did do very well, with an above average win rate of 51.3%.
In the current meta, 暴怒骑士 is not very popular. He has been used in only 2.6% of recently ranked matches. He is rarely banned during champion select. Obviously, very few players see him as a major threat. In the latest ranked matches, 暴怒骑士 was banned 1.2% of the time.
Because of 暴怒骑士's K/D/A and utility, he has a pretty good overall win rate. He does best in the late game, with a winrate of NaN% in that phase. Unfortunately, he does very poorly in the late game, where 暴怒骑士's win rate is NaN%., The difference between his best and worst game phases is a large NaN%. This sizeable difference indicates that his power spikes and wanes in different parts of the game. Prepare accordingly.
暴怒骑士 is played mostly in the top position. This occurs in [object Object]% of his matches. Yet, top 暴怒骑士 has the highest win rate ([object Object]%) of all positions but is less popular of a position (played [object Object]% of the time). At this time, 暴怒骑士's meta game is centered around dealing damage. Specifically, his kit should mainly be centered around physical damage. Dealing magical damage is the least critical part of 暴怒骑士's playstyle.
If you are not comfortable with his abilities and tactics, you may find it difficult trying him out for the first time. Many competitors consider him to be a challenging champ to get good at. 暴怒骑士 primarily does physical damage (92% of his total damage). He doesn't deal a lot of other damage types and should not be played as hybrid damage dealer..
暴怒骑士 deals a good amount of damage during a regular ranked match (18,576 damage). You may want to focus on developing him as a damage dealing champion to crush your foes.
无畏而且无赖的约德尔人克烈是诺克萨斯的意志化身、帝国士兵的仰慕偶像、长官眼里的定时炸弹、贵族鄙夷的送死小卒。很多军士都说,克烈参与了有史以来军团所挑起的每一场征战,"获得"了军中的每一份头衔,而且从来没有却步于任何一次战斗。虽然传闻总是不可全信,但至少有一件事毋庸置疑:只要克烈骑着胆小的斯嘎尔冲进战场,他的战斗便是为了保住所拥有的一切……或是抢走他想要的一切。
If you are looking for a dominating carry, then you should definitely consider this champ. He has one of the absolute best kill rates on the Rift among all champs. Additionally, he has a fairly typical average champion death count (5.9 deaths). Additionally, 暴怒骑士 has an average KDA ratio (2.3) with 7.3 assists.
We comb through millions of League of Legends matches pulled directly from Riot's servers each week and analyze the data using advanced algorithms to bring you the most accurate 暴怒骑士 stats online. We analyze the data by tier, so you can find the most relevant 暴怒骑士 win rate and other stats.