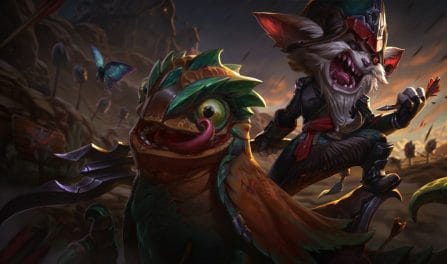 73,043 暴怒骑士 Builds Analyzed
Our 暴怒骑士 builds result from our evaluation of 73,043 recently ranked 暴怒骑士 rounds. Only the highest winrate 暴怒骑士 builds that are also in common use are suggested by us. Because we have so many matches in our database, we are very confident that we can show you the highest quality builds for 士 to help you win your next game!
Additionally, to see 暴怒骑士 builds specific to a particular skill level, pick a different tier from the dropdown menu above. If you change the selection, the best 暴怒骑士 build given will be based on that tier's meta game.
The most important items to incorporate into your champion's build are: 日炎圣盾,石像鬼石板甲, and 巨型九头蛇. Players who added these pieces in their kits had a higher winrate than players who used other builds for 暴怒骑士.
Furthermore, similar to our rune advice, you can also get great, focused, 暴怒骑士 item builds just below for the particular enemy team setup you are battling in your ongoing game.
暴怒骑士

Items to Defeat Focused Team Comps

征服者

凯旋

传说:韧性

坚毅不倒

骸骨镀层

爆破
If you are facing a mixed enemy team composition, you should strongly consider getting yourself the 精密, and 坚决 runes. In recent matches, he won the greatest percentage of his rounds when using these runes.
However, if you are facing a more focused enemy team composition, such as an AD heavy or a crowd control centric team, you should instead scroll a little down to get the best 暴怒骑士 runes to win your particular game.
暴怒骑士

Runes to Beat Dedicated Enemy Teams

征服者

凯旋

传说:欢欣

坚毅不倒

复苏之风

过度生长