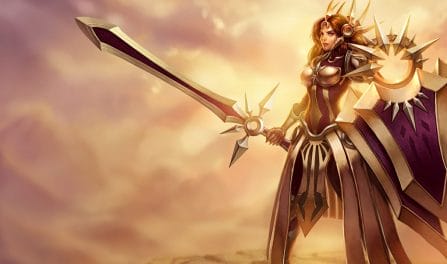 328,590 曙光女神 Matches Analyzed
These champ statistics were prepared using 328,590 recently played, ranked 曙光女神 games. We pull competitive match data directly from Riot's own database. Having a large number of League games to evaluate gives us great confidence in our capability to provide precise 曙光女神 statistics. She did do a great job in recent games. She racked up an average win rate of 50.3%.
In the current meta, 曙光女神 is incredibly popular. She has been selected in 10.2% of recently ranked games. She is very often banned during champ select. Obviously, most players see her as a real threat. In the latest ranked games, 曙光女神 was banned 18.7% of the time.
As a result of 曙光女神's K/D/A and utility, she has a fairly average overall win rate. She does very well in the late game, with a winrate of NaN% in that phase. Unfortunately, she does worst in the late game, where 曙光女神's win rate is NaN%., The difference between her best and worst game phases is a large NaN%. This sizeable difference indicates that her power spikes and fades in different parts of the round. Plan well.
You can see her typically played in the support position. The highest win rate position for 曙光女神 is support ([object Object]%). Currently, 曙光女神's meta game is centered around utility and support. Specifically, her build should mostly be centered around supporting others. Additionally, she is a pretty good tank champ. Dealing magical damage is the least significant part of 曙光女神's build.
You should anticipate having to dedicate only a little bit of time practicing and learning to get good at playing 曙光女神. Many League of Legends gamers consider she is one of the simplest champ to get good at. 曙光女神 mostly does magic damage (59% of her total damage). She also deals a large amount of physical damage.
曙光女神 deals a small amount of damage in a regular ranked round (6,991 damage). You probably shouldn't focus on building her as a powerful champ to defeat your enemies. Rather, you should focus on helping your allies to beat your enemy.
蕾欧娜是被灌注了烈阳之火的烈阳教派圣殿武士,用天顶之刃和破晓之盾守护着巨神峰。她的皮肤闪烁着星火,她体内天界星灵的力量透过她的双眼炯炯燃烧。蕾欧娜身披金色铠甲,背负着沉重的上古知识,为一些人带来启示,为另一些人带去死亡。
She is a weak damage dealer on the Rift with 2 kills on average per game. That is one of the lowest kill counts amongst all supports. 'Moreover, she has a fairly above average death total with an average of 6.2 deaths per LoL round. Additionally, 曙光女神's KDA is typically high with an average KDA ratio of 2.4 as well as 12.9 assists per game.
We comb through millions of League of Legends matches pulled directly from Riot's servers each week and analyze the data using advanced algorithms to bring you the most accurate 曙光女神 stats online. We analyze the data by tier, so you can find the most relevant 曙光女神 win rate and other stats.