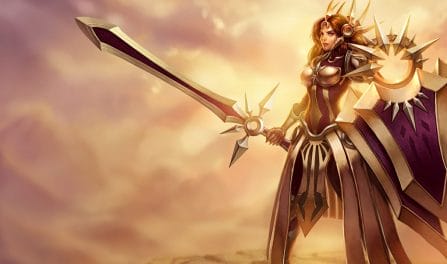 328,590 曙光女神 Builds Analyzed
Our 曙光女神 builds result from our analysis of 328,590 recently ranked 曙光女神 matches. Only the best win rate 曙光女神 builds that are also in common use are recommended by us. Since we have so many rounds in our data, we are sure that we can give you the best quality builds for 神 to help ensure you win your next game!
Additionally, 曙光女神 builds dedicated to a unique skill tier can be viewed by selecting another tier from the dropdown menu located above. The best 曙光女神 build shown will be specific to that division's meta.
The most essential items to include in your champion's build are: 钢铁烈阳之匣,深渊面具, and 基克的聚合. Players who included these pieces in their kits had a much better win rate than players who worked towards other item builds for 曙光女神.
Furthermore, like our rune recommendations, you can also get quality, focused, 曙光女神 item builds just below for the specific enemy team setup you are facing in your current game.
曙光女神

Items to Defeat Focused Team Comps

余震

生命源泉

复苏之风

过度生长

凯旋

传说:韧性
If you are trying to beat a varied enemy team comp, you should strongly consider getting her the 坚决, and 精密 runes. In recent matches, she won the largest percentage of her matches when equipped with these runes.
Although, if you are battling a singular enemy team comp, such as an AD centric or a crowd control focused team, you should instead browse below to get the best 曙光女神 runes to win your particular game.
曙光女神

Runes to Beat Dedicated Enemy Teams

余震

生命源泉

骸骨镀层

坚定

饼干配送

海克斯科技闪现罗网