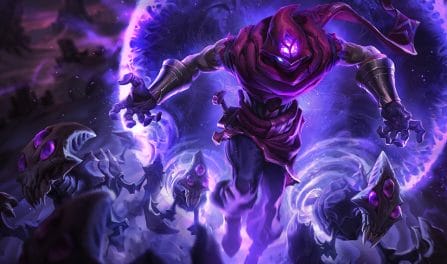 166,506 虚空先知 Matches Analyzed
These champion stats were determined using 166,506 recently played, ranked 虚空先知 matches. We pull competitive game data directly from Riot's own database. Having so many League games to analyze gives us great confidence in our capability to give you accurate 虚空先知 stats. He did do a good job in recent matches. He racked up a decent win rate of 51.6%.
虚空先知 has been used somewhat often in recent ranked League games. In the current meta, his popularity is 5.6%. Some players see him as a danger. He has been banned in roughly 6.8% of League of Legends matches.
Thanks to 虚空先知's K/D/A and utility, he has a pretty good overall win rate. He does very well in the late game, with a winrate of NaN% in that phase. Unfortunately, he does very poorly in the late game, where 虚空先知's win rate is NaN%., The difference between his best and worst game phases is a large NaN%. This sizeable difference makes it clear that his power spikes and wanes in different phases of the game. Prepare accordingly.
虚空先知 is most commonly played in the middle position. This occurs in [object Object]% of his rounds. Middle 虚空先知 also has the highest win rate ([object Object]%) of all positions. At this time, 虚空先知's meta game is centered around dealing damage. Specifically, his kit should primarily be focused on magical damage. Additionally, he is a pretty good support champion. Dealing physical damage is the least critical part of 虚空先知's playstyle.
If you are not familiar with his abilities and tactics, you may find it difficult trying him out for the first time. Many competitors believe him to not be a challenging champion to learn. 虚空先知 primarily causes magic damage (95% of his total damage). He doesn't deal much of other damage types and should not be played as hybrid damage dealer..
虚空先知 deals tons of damage during a regular ranked game (20,377 damage). You should focus on building him as a damage dealing champion to crush your opponents.
玛尔扎哈是一名狂热的先知,将自己的全部奉献给一切生命的大一统。他坚信,近来新出现的虚空就是符文之地的救赎。在恕瑞玛的沙漠荒原上,他曾一度追随着脑海中的窃窃私语,一路来到古艾卡西亚。在这片废墟中,他窥见了虚空深处的黑暗核心,被赋予了新的力量和目标。玛尔扎哈现在视自己为迷途羔羊的牧人,将其他人带进畜栏,或是放出藏身地下的虚灵生物。
If you are looking for a dominating damage dealer, then you should maybe consider this champion. He has one of the top kill totals on the Rift among all champs. Furthermore, he has a relatively typical average champion death rate (5.7 deaths). Moreover, 虚空先知 has an average KDA ratio (2.3) with 7.7 assists.
We comb through millions of League of Legends matches pulled directly from Riot's servers each week and analyze the data using advanced algorithms to bring you the most accurate 虚空先知 stats online. We analyze the data by tier, so you can find the most relevant 虚空先知 win rate and other stats.