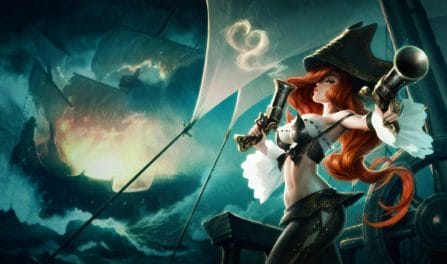 228,626 赏金猎人 Matches Analyzed
To generate these Miss Fortune statistics, we reviewed 228,626 recent competitive League matches with her chosen. MOBA Champion pulls ranked game results directly from Riot's servers. This allows us to be very confident in our Miss Fortune statistics. She didn't do a good job in recent games. She has an average win rate of 49.9%.
Miss Fortune has been picked a lot in recent ranked LoL rounds. In the current meta, her popularity is 7.6%. She is rarely banned during champ select. Obviously, very few players see her as a significant threat. In recent ranked matches, Miss Fortune was banned 0.8% of the time.
She is a powerful damage dealer on the Rift with 7 kills on average per match. That is the 12th highest kill count among all bottoms. (There are 20 total champs that are most commonly picked for in the bottom position.) Furthermore, she has a fairly high average death count (6 deaths; 6th out of all bottoms). Additionally, Miss Fortune's KDA is typically average with an average KDA ratio of 2.1 as well as 7 assists per game. This is the 8th top assist count among bottom champs.
Thanks to Miss Fortune's K/D/A and utility, she has a fairly average overall win rate. She does very well in the late game, with a winrate of 51.5% in that phase. Unfortunately, she does worst in the early game, where Miss Fortune's win rate is 49.9%. The difference between her best and worst game phases is only 1.6%. This small difference indicates that her power is flat throughout the whole game.
You will see her most often laning in the bottom position. The highest win rate position for Miss Fortune is bottom (50.6%). At this time, Miss Fortune's meta game is centered around dealing damage. Specifically, her build should primarily be focused on physical damage. Furthermore, she is a decent damage dealer champion. Tanking is the least critical part of Miss Fortune's kit.
You should expect to have to to dedicate only a little bit of time practicing and learning to learn Miss Fortune. Many League of Legends gamers consider she is an easy champ to master. Miss Fortune mostly does physical damage (82% of her total damage). She doesn't deal a significant amount of magical damage and shouldn't be considered a hybrid damage dealer.
Miss Fortune deals a good amount of damage during a typical match (17,666 damage). You may want to focus on building her as a powerful champion to smash your foes.
A Bilgewater captain famed for her looks but feared for her ruthlessness, Sarah Fortune paints a stark figure among the hardened criminals of the port city. As a child, she witnessed the reaver king Gangplank murder her family—an act she brutally...
We comb through millions of League of Legends matches pulled directly from Riot's servers each week and analyze the data using advanced algorithms to bring you the most accurate 赏金猎人 stats online. We analyze the data by tier, so you can find the most relevant 赏金猎人 win rate and other stats.