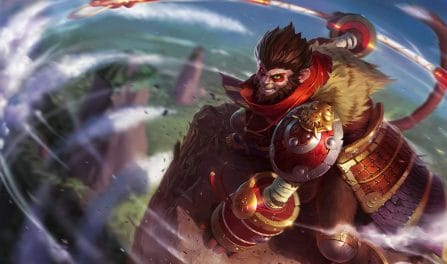 130,636 齐天大圣 Matches Analyzed
These champion stats were prepared using 130,636 recently played, ranked 齐天大圣 matches. MOBA Champion pulls ranked match results directly from Riot's own database. Having so many League of Legends matches to evaluate gives us great confidence in our ability to provide precise 齐天大圣 statistics. He did do a great job in recent matches. He racked up a decent win rate of 51.5%.
In the current meta, 齐天大圣 is very popular. He has been played in 5.4% of recently ranked matches. He is sometimes banned during champion select. Obviously, some players see him as a significant threat. In recent ranked rounds, 齐天大圣 was banned 3.4% of the time.
Thanks to 齐天大圣's K/D/A and utility, he has a pretty good overall win rate. He does best in the late game, with a winrate of NaN% in that phase. Unfortunately, he does terribly in the late game, where 齐天大圣's win rate is NaN%., The difference between his best and worst game phases is a large NaN%. This sizeable difference indicates that his power spikes and fades in different parts of the match. Prepare accordingly.
齐天大圣 is most commonly played in the top position. This occurs in [object Object]% of his games. Yet, top 齐天大圣 has the highest win rate ([object Object]%) of all positions but is less popular of a position (played [object Object]% of the time). At this time, 齐天大圣's meta game is focused on dealing damage. Specifically, his build should primarily be centered around physical damage. Moreover, he is an ok tank champion. Dealing magical damage is the least significant part of 齐天大圣's gameplay.
You should expect to have to to dedicate only a little bit of time practicing and learning to pick up 齐天大圣. Many LoL gamers believe he is a simple champ to master. 齐天大圣 mostly does physical damage (81% of his total damage). He doesn't deal much of other damage types and should not be played as hybrid damage dealer..
齐天大圣 deals a good amount of damage during a typical round (17,170 damage). You could focus on developing him as a damage dealing champ to crush your enemies.
悟空是一个瓦斯塔亚族的机灵鬼,用自己的力量、灵敏和机智迷惑对手并抢得先机。机缘巧合让他结识了一位剑客并与之成为一生的挚友,这位剑客被人称作易大师。后来,悟空就成为了古老武术门派"无极"的最后一位弟子。如今,附魔长棍傍身的悟空,目标是让艾欧尼亚免遭崩溃的命运。
He is a powerful damage dealer in the game with 6.1 kills on average per game. That is one of the highest kill rates among all tops. Furthermore, he has a fairly typical average champion death rate (5.3 deaths). Additionally, 齐天大圣 has an average KDA ratio (2.3) with 6 assists.
We comb through millions of League of Legends matches pulled directly from Riot's servers each week and analyze the data using advanced algorithms to bring you the most accurate 齐天大圣 stats online. We analyze the data by tier, so you can find the most relevant 齐天大圣 win rate and other stats.