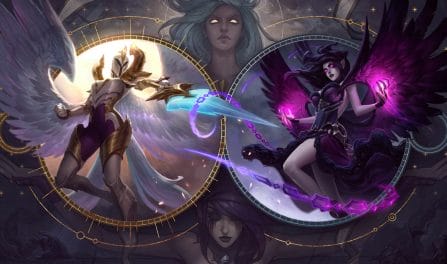 213,321 堕落天使 Builds Analyzed
The most critical items to include in your Morgana build include: Everfrost, Rylai's Crystal Scepter, Zhonya's Hourglass, and Demonic Embrace. Additionally, similar to our rune setups, you can also get great, dedicated, Morgana item builds further down for the particular enemy team comp you are facing in your ongoing game. Players who included these items in their gear had a much better win rate than those who used other Morgana builds.
堕落天使

Items to Defeat Focused Team Comps

奥术彗星

法力流系带

超然

焦灼

神奇之鞋

行近速率
If you are fighting a varied enemy team composition, you should really consider grabbing yourself the Arcane Comet, Manaflow Band, Transcendence, Scorch, Magical Footwear, and Approach Velocity runes. In recent games, she won the greatest percentage of her matches when using these runes. Yet, if you are battling a more single focused enemy team composition, such as an AD centric or a CC centric team, you should instead scrollbrowse below to view the best Morgana runes to win your particular round.
堕落天使

Runes to Beat Dedicated Enemy Teams

召唤:艾黎

法力流系带

超然

焦灼

骸骨镀层

复苏
Our Morgana builds result from our examination of 213,321 recently ranked Morgana games. Only the top win rate Morgana builds that are also commonly used are recommended by us. Since we have so many games in our dataset, we are very sure that we can produce the highest quality builds for Morgana to help ensure you win your next game!
Additionally, to view Morgana builds dedicated to a unique division, select your desired division from the dropdown menu located above. In that case, the best Morgana build given will be based on that division's meta.