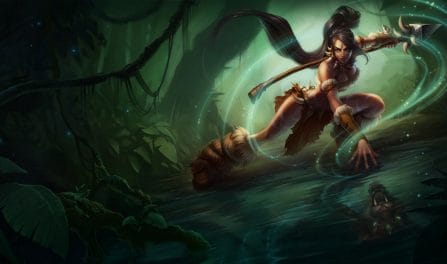 75,575 狂野女猎手 Matches Analyzed
These champion statistics were prepared using 75,575 recently played, ranked 狂野女猎手 games. MOBA Champion downloads ranked match summaries directly from Riot's own database. Having a large number of League matches to analyze gives us great confidence in our capability to give you accurate 狂野女猎手 stats. She didn't do a great job in recent rounds. She has a dismal win rate of 46.6%.
In the current meta, 狂野女猎手 is not very popular. She has been selected in only 2.7% of recently ranked matches. She is rarely banned during champion select. Obviously, very few players see her as a huge threat. In recent ranked games, 狂野女猎手 was banned 0.4% of the time.
As a result of 狂野女猎手's K/D/A and utility, she has a terrible overall win rate. She does very well in the late game, with a winrate of NaN% in that phase. Unfortunately, she does very poorly in the late game, where 狂野女猎手's win rate is NaN%., The difference between her best and worst game phases is a large NaN%. This sizeable difference indicates that her power spikes and fades in different parts of the match. Plan accordingly.
狂野女猎手 is most commonly played in the jungle position. This happens in [object Object]% of her games. Yet, jungle 狂野女猎手 has the highest win rate ([object Object]%) of all positions but is less popular of a position (played [object Object]% of the time). At this time, 狂野女猎手's meta game is centered around dealing damage. In particular, her gameplay should primarily be focused on magical damage. Additionally, she is a pretty good physical damage dealer champion. Supporting others and crowd control are the least significant part of 狂野女猎手's gameplay.
You should expect to have to to spend a significant amount of time practicing and learning to get good at playing 狂野女猎手. Most League gamers think she is a tough champ to main. 狂野女猎手 mostly deals magic damage (91% of her total damage). She doesn't deal much of other damage types and should not be played as hybrid damage dealer..
狂野女猎手 deals a good amount of damage over the course of a typical match (17,464 damage). You may want to focus on building her as a powerful champion to destroy your foes.
在密林深处长大的奈德丽是一位追猎大师,她可以变换形态,成为一只凶猛的美洲狮。她既不是真正的人类,也不是真正的野兽,但她会用精心布置的陷阱和灵活自如的标枪,凶狠地捍卫自己的领地不被任何人侵犯。她会先打击猎物的行动能力,然后再以大猫的形态上前扑杀。只有很少数人曾侥幸逃脱并活下来讲述一个狂野女猎手的故事,讲述她锐利的猎手本能,以及更加锐利的爪子。
She is a powerful damage dealer in the game with 7.1 kills on average each game. That is one of the highest kill counts among all jungles. 'Moreover, she has a fairly typical death rate with an average of 5.6 deaths per LoL match. Furthermore, 狂野女猎手's KDA is usually very high with an average KDA ratio of 2.5 as well as 7 assists per game.
We comb through millions of League of Legends matches pulled directly from Riot's servers each week and analyze the data using advanced algorithms to bring you the most accurate 狂野女猎手 stats online. We analyze the data by tier, so you can find the most relevant 狂野女猎手 win rate and other stats.