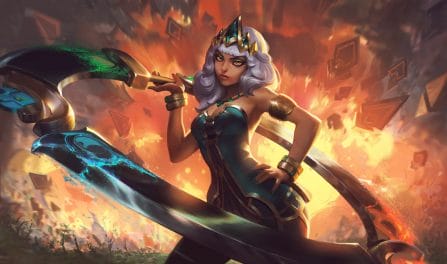 113,633 元素女皇 Builds Analyzed
Our 元素女皇 builds result from our analysis of 113,633 recently ranked 元素女皇 matches. Only the highest winrate 元素女皇 builds that are also commonly used are advised by us. Because we have so many matches in our database, we are quite confident that we can give you top quality builds for 女 to help you win your next match!
Additionally, 元素女皇 builds dedicated to a particular skill division can be seen by choosing another division from the dropdown menu found above. The recommended 元素女皇 build shown will be focused on that tier's meta.
The most essential items to include in your champion's build are: 暗行者之爪,守护天使, and 巨蛇之牙. Players who added these pieces in their setups had a significantly better winrate than those who tried for other 元素女皇 builds.
Furthermore, like our rune recommendations, you can also get great, dedicated, 元素女皇 item builds a little further down for the specific enemy team comp you are playing in your next match.
元素女皇

Items to Defeat Focused Team Comps

电刑

猛然冲击

眼球收集器

无情猎手

气定神闲

致命一击
If you are battling a well-mixed enemy team comp, you should really consider grabbing yourself the 主宰, and 精密 runes. In recent games, she won the largest number of her rounds when built with these runes.
Although, if you are facing a more homogenous enemy team composition, such as an AP centric or a crowd control heavy team, you should instead look a little below to view the best 元素女皇 runes to defeat your particular set of opponents.
元素女皇

Runes to Beat Dedicated Enemy Teams

电刑

猛然冲击

眼球收集器

贪欲猎手

坚毅不倒

气定神闲