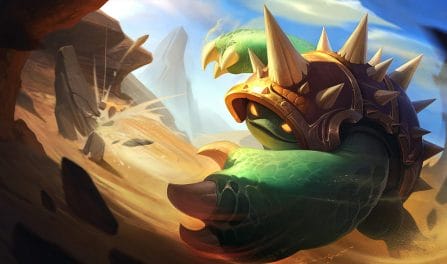 91,241 披甲龙龟 Matches Analyzed
To prepare these 披甲龙龟 stats, we reviewed 91,241 recent ranked League of Legends games with him chosen. We pull competitive match results directly from Riot's servers. This allows us to be very confident in our 披甲龙龟 statistics. Across all rounds, 披甲龙龟 did do very well, with an average win rate of 50.6%.
In the current meta, 披甲龙龟 is not very popular. He has been used in only 2.9% of recently ranked matches. He is sometimes banned during champion select. Obviously, some players see him as a substantial threat. In recent ranked games, 披甲龙龟 was banned 4.1% of the time.
As a result of 披甲龙龟's K/D/A and utility, he has a fairly average overall win rate. He does best in the late game, with a winrate of NaN% in that phase. Unfortunately, he does terribly in the late game, where 披甲龙龟's win rate is NaN%., The difference between his best and worst game phases is a large NaN%. This large difference makes it clear that his power spikes and fades in different phases of the match. Prepare accordingly.
披甲龙龟 is played mostly in the jungle position. This occurs in [object Object]% of his matches. Jungle 披甲龙龟 also has the highest win rate ([object Object]%) of all positions. Currently, 披甲龙龟's meta game is centered around tanking. Specifically, his build should mostly be centered around protecting carries. Additionally, he is a decent magical damage dealer champ. Dealing physical damage is the least significant part of 披甲龙龟's gameplay.
You should expect to have to to spend a decent amount of time practicing and learning to get good with 披甲龙龟. Many League of Legends gamers believe he is an average difficulty champion to main. 披甲龙龟 primarily causes magic damage (76% of his total damage). He doesn't deal much of other damage types and should not be considered a hybrid damage dealer..
披甲龙龟 deals a good amount of damage in a normal round (13,444 damage). You could focus on developing him as a damage dealing champ to smash your foes.
许多人对其崇拜敬仰,少数人对其嗤之以鼻,但所有人都对其一无所知。奇怪而有趣的生物拉莫斯就是一个谜团。他全身覆盖尖刺硬壳,人们对他的出身来历的猜测层出不穷——有人说他是半神,有人说他是神谕者,有人说他只是普通的野兽,遭遇了魔法的影响而发生彻底变异。无论真相如何,拉莫斯始终都默不作声,而且不会为任何人停留,永远都在沙漠中奔走游荡。
If you are looking for a dominating damage dealer, then you should maybe consider this champ. He has one of the top kill totals on the Rift amongst all champions. Additionally, he has a fairly typical average champion death rate (6 deaths). Additionally, 披甲龙龟 has a high KDA ratio (2.7) with 11.3 assists.
We comb through millions of League of Legends matches pulled directly from Riot's servers each week and analyze the data using advanced algorithms to bring you the most accurate 披甲龙龟 stats online. We analyze the data by tier, so you can find the most relevant 披甲龙龟 win rate and other stats.