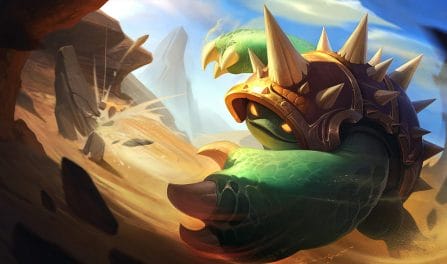 91,241 披甲龙龟 Builds Analyzed
We established our 披甲龙龟 build guidance by analyzing 91,241 recently ranked League of Legends matches with him selected. We only recommend the top winrate 披甲龙龟 builds that were used by ranked gamers enough times for us to suggest them. With so many rounds in our data, we are confident in our recommended builds.
Additionally, to see the best 披甲龙龟 build designed for a different skill level, you can choose a different one from the dropdown above. The recommended champ builds will update to reflect that skill level's meta.
The best items to use in your champ's build are: 涡轮炼金罐,深渊面具, and 亡者的板甲. Those who included these pieces in their builds had a significantly better win rate than those who worked towards other builds for 披甲龙龟.
Additionally, similar to our rune builds, you can also find quality, dedicated, 披甲龙龟 item builds farther down for the particular enemy team composition you are fighting in your ongoing match.
披甲龙龟

Items to Defeat Focused Team Comps

余震

生命源泉

调节

坚定

凯旋

传说:韧性
If you are trying to beat a varied enemy team comp, you should really consider grabbing yourself the 坚决, and 精密 runes. In recent games, he won the greatest fraction of his matches when using these runes.
However, if you are fighting a different enemy team composition, such as an AP heavy or a tank heavy team, you should instead browse below to view the best 披甲龙龟 runes to win your particular match.
披甲龙龟

Runes to Beat Dedicated Enemy Teams

余震

生命源泉

调节

坚定

传说:欢欣

凯旋