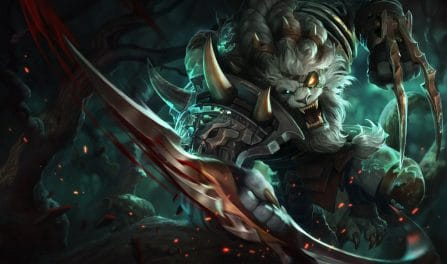 100,332 傲之追猎者 Matches Analyzed
These champ stats were computed using 100,332 recently played, ranked 傲之追猎者 matches. MOBA Champion pulls ranked match summaries directly from Riot's own database. Having a large number of LoL rounds to evaluate gives us a lot of confidence in our ability to give you precise 傲之追猎者 statistics. He did not do a great job in recent matches. He has a dismal win rate of 47%.
In the current meta, 傲之追猎者 is somewhat popular. He has been selected in 4.3% of recently ranked games. He is rarely banned during champ select. Obviously, very few players see him as a substantial threat. In the latest ranked matches, 傲之追猎者 was banned 1.9% of the time.
Because of 傲之追猎者's K/D/A and utility, he has a terrible overall win rate. He does very well in the late game, with a winrate of NaN% in that phase. Unfortunately, he does terribly in the late game, where 傲之追猎者's win rate is NaN%., The difference between his best and worst game phases is a large NaN%. This large difference indicates that his power spikes and wanes in different parts of the round. Prepare well.
傲之追猎者 is played mostly in the jungle position. This happens in [object Object]% of his matches. Yet, jungle 傲之追猎者 has the highest win rate ([object Object]%) of all positions but is less popular of a position (played [object Object]% of the time). At this time, 傲之追猎者's meta game is centered around dealing damage. In particular, his gameplay should mostly be centered around physical damage. Dealing magical damage is the least important part of 傲之追猎者's build.
You should anticipate having to dedicate a significant amount of time practicing and learning to get good at playing 傲之追猎者. Many LoL players consider he is a tough champ to get good at. 傲之追猎者 mostly does physical damage (88% of his total damage). He doesn't deal much of other damage types and should not be played as hybrid damage dealer..
傲之追猎者 deals a decent amount of damage during a typical match (17,491 damage). You may want to focus on building him as a damage dealing champion to destroy your enemies.
瓦斯塔亚的雷恩加尔是一名声名远扬又凶残无比的猎手。他的人生充满着追寻猎杀危险的生物的快感。他寻遍整个世界,只为寻找他能找到的最可怕的野兽,特别是寻找任何关于卡兹克的踪迹。这头来自虚空的野兽弄瞎了他的一只眼睛。雷恩加尔追寻着猎物,不为捕食也不为荣耀,只是为了纯粹的猎杀所带来的激烈美感。
If you are looking for a dominating damage dealer, then you should definitely consider this champion. He has one of the absolute best kill rates on the Rift amongst other champions. Additionally, he has a fairly high average champion death count (6.6 deaths). Additionally, 傲之追猎者's KDA is typically average with an average KDA ratio of 2.1 as well as 5.6 assists per match.
We comb through millions of League of Legends matches pulled directly from Riot's servers each week and analyze the data using advanced algorithms to bring you the most accurate 傲之追猎者 stats online. We analyze the data by tier, so you can find the most relevant 傲之追猎者 win rate and other stats.