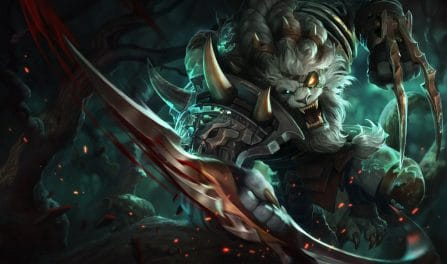 76,524 傲之追猎者 Builds Analyzed
The most important items to include in your Rengar build include: Duskblade of Draktharr, Mercurial Scimitar, Essence Reaver, and The Collector. Furthermore, like our rune recommendations, you can also find quality, dedicated, Rengar item builds farther down for the specific enemy team comp you are playing in your ongoing match. Players who added these items in their builds had a greater win rate than players who worked towards other Rengar builds.
傲之追猎者

Items to Defeat Focused Team Comps

不灭之握

爆破

复苏之风

复苏

血之滋味

贪欲猎手
If you are battling a varied enemy team comp, you should strongly consider getting yourself the Grasp of the Undying, Demolish, Second Wind, Revitalize, Taste of Blood, and Ravenous Hunter runes. In recent matches, he won the largest fraction of his matches when built with these runes. Yet, if you are fighting a more homogenous enemy team composition, such as an AP centric or a tank centric team, you should instead look below to see the best Rengar runes to defeat your particular combination of foes.
傲之追猎者

Runes to Beat Dedicated Enemy Teams

电刑

猛然冲击

眼球收集器

贪欲猎手

绝对专注

风暴聚集
Our Rengar builds come from our examination of 76,524 recently ranked Rengar matches. Only the top winrate Rengar builds that are also commonly used are suggested by us. Because we have so many games in our database, we are absolutelysure that we can provide high quality builds for Rengar to help you win your next game!
Additionally, to view the best Rengar build for a different skill division, you can select a different skill tier from the dropdown above. The proposed Rengar builds will update to characterize that division's meta.