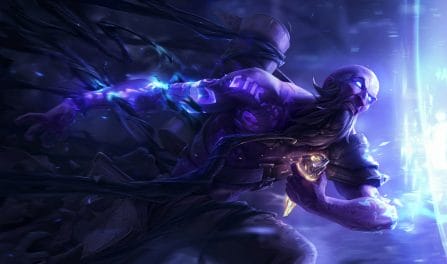 112,425 符文法师 Matches Analyzed
These champion statistics were determined using 112,425 recently played, ranked 符文法师 games. MOBA Champion pulls ranked game data directly from Riot's own database. Having so many LoL games to evaluate gives us a lot of confidence in our capability to provide precise 符文法师 stats. Across all games, he didn't perform very well, with a below average win rate of 46.6%.
符文法师 has been picked somewhat often in recent ranked LoL rounds. In the current meta, his popularity is 4.3%. He is rarely banned during champion select. Obviously, very few players see him as a significant threat. In the latest ranked matches, 符文法师 was banned 0.4% of the time.
Because of 符文法师's K/D/A and utility, he has a terrible overall win rate. He does best in the late game, with a winrate of NaN% in that phase. Unfortunately, he does poorest in the late game, where 符文法师's winrate is NaN%., The difference between his best and worst game phases is a large NaN%. This large difference shows us that his power spikes and wanes in different phases of the round. Plan well.
You can find him most often used in the middle position. The top win rate position for 符文法师 is middle ([object Object]%). Currently, 符文法师's meta game is focused on dealing damage. Specifically, his gameplay should mainly be focused on magical damage. Moreover, he is a pretty good support champion. Dealing physical damage is the least significant part of 符文法师's build.
If you are not used to his skills and tactics, you may find it difficult trying him out for the first time. Many players believe him to be a difficult champion to get good at. 符文法师 mostly causes magic damage (95% of his total damage). He doesn't deal a lot of other damage types and should not be played as hybrid damage dealer..
符文法师 deals a good amount of damage over the course of a regular ranked match (19,131 damage). You could focus on building him as a powerful champ to destroy your enemies.
瑞兹是符文之地广为人知的最老练的法师之一。他生于远古,饱经风霜,肩负着不可承受之重任。这位大法师的武器,是他无可摧折的决心和丰富的秘法学识,他一生都在寻找着世界符文 ——它们是令这世界从无到有、万物成形的原生魔法所留下的碎片。他一定要找到所有这些神秘的字符,以免落入恶人之手,因为瑞兹知道它们可能给符文之地带来怎样的浩劫。
He is an average damage dealer on the Rift with 5.7 kills on average per game. That is one of the highest kill rates among all middles. Furthermore, he has a relatively typical average champion death rate (5.9 deaths). Furthermore, 符文法师's KDA is usually low with an average KDA ratio of 2.1 as well as 6.6 assists per game.
We comb through millions of League of Legends matches pulled directly from Riot's servers each week and analyze the data using advanced algorithms to bring you the most accurate 符文法师 stats online. We analyze the data by tier, so you can find the most relevant 符文法师 win rate and other stats.