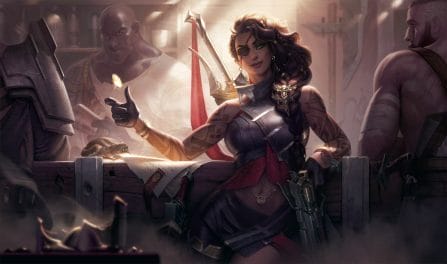 285,157 沙漠玫瑰 Matches Analyzed
These champ statistics were determined using 285,157 recently played, ranked 沙漠玫瑰 matches. We pull competitive game results directly from Riot's own database. Having a large number of League matches to evaluate gives us great confidence in our ability to give you precise 沙漠玫瑰 statistics. Across all matches, 沙漠玫瑰 did not perform very well, with an average win rate of 49.1%.
沙漠玫瑰 has been used a lot in recent ranked LoL rounds. In the current meta, her popularity is 9%. Most League players see her as a danger. She has been banned in roughly 19.7% of LoL games.
Thanks to 沙漠玫瑰's K/D/A and utility, she has a fairly average overall win rate. She does best in the late game, with a winrate of NaN% in that phase. Unfortunately, she does very poorly in the late game, where 沙漠玫瑰's winrate is NaN%., The difference between her best and worst game phases is a large NaN%. This large difference shows us that her power spikes and fades in different parts of the game. Plan accordingly.
You will find her most often played in the bottom position. The highest win rate position for 沙漠玫瑰 is bottom ([object Object]%). Currently, 沙漠玫瑰's meta game is focused on dealing damage. In particular, her build should mainly be centered around physical damage. Moreover, she is an ok tank champ. Supporting others and crowd control are the least significant part of 沙漠玫瑰's kit.
You should anticipate having to spend a decent amount of time practicing and learning to get good at playing 沙漠玫瑰. Many League of Legends gamers consider she is an average difficulty champ to get good at. 沙漠玫瑰 primarily does physical damage (85% of her total damage). She doesn't deal a lot of other damage types and should not be played as hybrid damage dealer..
沙漠玫瑰 deals a decent amount of damage over the course of a regular ranked round (18,329 damage). You may want to focus on building her as a damage dealing champ to crush your enemies.
莎弥拉以寸步不让的自信直视死亡,无论走到哪里都要寻找刺激。生于恕瑞玛的她在很小的时候就被摧毁了家园,后来受到了诺克萨斯的感召,在那里,她成为了英姿飒爽的孤胆女将,专门处理最高规格的凶险任务。莎弥拉使用黑火药双枪外加一把特殊制程工艺的大刀,她在生死存亡的关头尤为勇猛,以闪钢与烈焰终结任何拦路者。
She is a powerful damage dealer in the game with 8.2 kills on average each game. That is one of the highest kill rates amongst all bottoms. 'Moreover, she has a somewhat above average death rate with an average of 6.7 deaths per League round. Furthermore, 沙漠玫瑰 has an average KDA ratio (2.2) with 6.5 assists.
We comb through millions of League of Legends matches pulled directly from Riot's servers each week and analyze the data using advanced algorithms to bring you the most accurate 沙漠玫瑰 stats online. We analyze the data by tier, so you can find the most relevant 沙漠玫瑰 win rate and other stats.