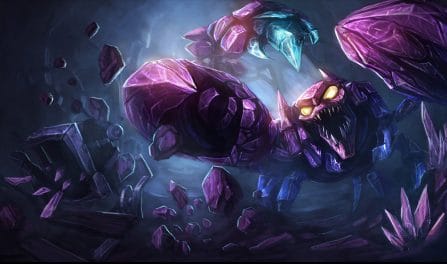 14,597 水晶先锋 Matches Analyzed
To prepare these Skarner stats, we reviewed 14,597 recent competitive League of Legends games with him chosen. We pull ranked game data directly from Riot's servers. This gives us great confidence in our Skarner statistics. Across all games, Skarner did perform very well, with an above average win rate of 51.5%.
Skarner has been picked very little in recent ranked League matches. In the current meta, his popularity is 0.5%. Hardly anyone sees him as a threat. He has only been banned in about 0.1% of League games.
He is an average damage dealer on the Rift with 4 kills on average each game. That is the 38th highest kill count among all jungles. (There are 39 champion in totals that are usually played in in the jungle position.) Moreover, he has a fairly typical death total with an average of 5 deaths per League match (37th out of all jungles). Additionally, Skarner has a high KDA ratio (2.7) with 10 assists (8th among all jungle type champions).
As a result of Skarner's K/D/A and utility, he has a pretty good overall win rate. He does best in the mid game, with a winrate of 52.2% in that phase. Unfortunately, he does worst in the early game, where Skarner's win rate is 50.3%. The difference between his best and worst game phases is only 1.9%. This negligible difference indicates that his power is flat throughout the entire game.
Skarner is played mostly in the jungle position. This happens in 90% of his games. Jungle Skarner also has the highest win rate (51.3%) of all positions. At this time, Skarner's meta game is centered around dealing damage. Specifically, his kit should mainly be centered around physical damage. Additionally, he is an ok damage dealer champ. Dealing magical damage is the least significant part of Skarner's gameplay.
If you are not used to Skarner's abilities and gameplay, you may find it difficult picking him up for the first time. Most players consider him to not be a challenging champ to get good at. Skarner mostly causes physical damage (57% of his total damage). He also deals a significant amount of magical damage and should be considered a hybrid damage dealer.
Skarner deals a small amount of damage in a normal round (10,882 damage). You probably shouldn't focus on building him as a damage dealing champ to crush your foes.Rather, you should dedicate yourself to supporting your allies to beat your enemy.
Skarner is an immense crystalline scorpion from a hidden valley in Shurima. Part of the ancient Brackern race, Skarner and his kin are known for their great wisdom and deep connection to the land, as their souls are fused with powerful life crystals...
We comb through millions of League of Legends matches pulled directly from Riot's servers each week and analyze the data using advanced algorithms to bring you the most accurate 水晶先锋 stats online. We analyze the data by tier, so you can find the most relevant 水晶先锋 win rate and other stats.