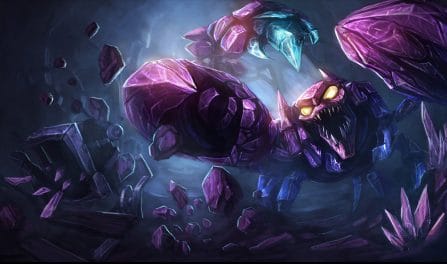 28,091 水晶先锋 Matches Analyzed
These champion stats were computed using 28,091 recently played, ranked 水晶先锋 matches. We pull ranked game summaries directly from Riot's own database. Having a large number of League rounds to evaluate gives us great confidence in our ability to give you accurate 水晶先锋 statistics. Across all matches, 水晶先锋 did do very well, with an above average win rate of 51.3%.
水晶先锋 has been picked very little in recent ranked LoL rounds. In the current meta, his popularity is 1%. He is rarely banned during champion select. Obviously, very few players see him as a significant threat. In the latest ranked matches, 水晶先锋 was banned 0.2% of the time.
Because of 水晶先锋's K/D/A and utility, he has a pretty good overall win rate. He does very well in the late game, with a winrate of NaN% in that phase. Unfortunately, he does terribly in the late game, where 水晶先锋's win rate is NaN%., The difference between his best and worst game phases is a large NaN%. This sizeable difference shows us that his power spikes and fades in different parts of the match. Plan well.
水晶先锋 is played mostly in the jungle position. This happens in [object Object]% of his rounds. Jungle 水晶先锋 also has the highest win rate ([object Object]%) of all positions. Currently, 水晶先锋's meta game is focused on dealing damage. Specifically, his build should mainly be centered around physical damage. Moreover, he is a decent magical damage dealer champion. Dealing magical damage is the least critical part of 水晶先锋's build.
You should anticipate having to dedicate a decent amount of time practicing and learning to master 水晶先锋. Many LoL gamers consider he is an average difficulty champ to main. 水晶先锋 primarily does physical damage (56% of his total damage). He also deals a significant amount of magic damage.
水晶先锋 deals only a little damage during a normal game (10,862 damage). You probably shouldn't focus on developing him as a damage dealing champ to smash your opponents. Rather, you should dedicate yourself to supporting your allies to come out on top.
斯卡纳是一只身形庞大的水晶蝎,来自于恕瑞玛的一处隐秘的山谷。作为古老的壳人族,斯卡纳和他的同胞因卓然的智慧和与大地深切的联系而闻名。他们的灵魂都得到过生命水晶的加持,所以祖先的记忆与现世的思绪都被完好地保存了下来。在久远的过去,壳人族为了躲避神秘的魔法灾难而进入了长眠,然而现在,新的威胁唤醒了斯卡纳。作为整个部族中唯一醒来的人,他将拼尽全力保护其余的同胞,免遭任何人的迫害。
If you are looking for a dominating carry, then you should maybe consider this champ. He has one of the top kill counts in the game amongst all champs. 'Moreover, he has a somewhat typical death total with an average of 5.2 deaths per LoL match. Furthermore, 水晶先锋 has a high KDA ratio (2.8) with 10.2 assists.
We comb through millions of League of Legends matches pulled directly from Riot's servers each week and analyze the data using advanced algorithms to bring you the most accurate 水晶先锋 stats online. We analyze the data by tier, so you can find the most relevant 水晶先锋 win rate and other stats.