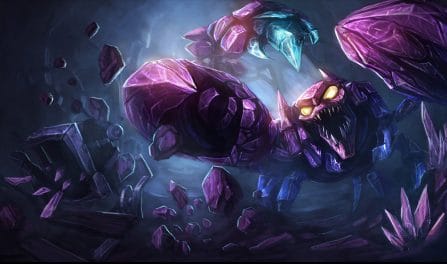 28,091 水晶先锋 Builds Analyzed
We set our 水晶先锋 build suggestions by analyzing 28,091 recently ranked League of Legends rounds with him in them. We only advise the highest winrate 水晶先锋 builds that have been built by ranked gamers enough times for us to advise them. With so many games in our data, we are quite confident in our provided builds.
Additionally, to get 水晶先锋 builds customized to a unique skill level, choose your desired rank from the dropdown menu located above. If you change the selection, the recommended 水晶先锋 build given will reflect that tier's meta game.
The most important items to include in your champ's build are: 涡轮炼金罐,荆棘之甲, and 亡者的板甲. Those who included these items in their setups had a significantly better winrate than players who went for other item builds for 水晶先锋.
Additionally, like our rune suggestions, you can also get quality, dedicated, 水晶先锋 item builds just below for the specific enemy team comp you are fighting in your next match.
水晶先锋

Items to Defeat Focused Team Comps

相位猛冲

灵光披风

迅捷

水上行走

神奇之鞋

行近速率
If you are playing a well-mixed enemy team comp, you should strongly consider getting him the 巫术, and 启迪 runes. In recent games, he won the greatest percentage of his games when using these runes.
However, if you are battling a more focused enemy team comp, such as an AD centric or a CC centric team, you should instead browse further down to view the best 水晶先锋 runes to defeat your particular enemy team.
水晶先锋

Runes to Beat Dedicated Enemy Teams

相位猛冲

灵光披风

迅捷

水上行走

神奇之鞋

行近速率