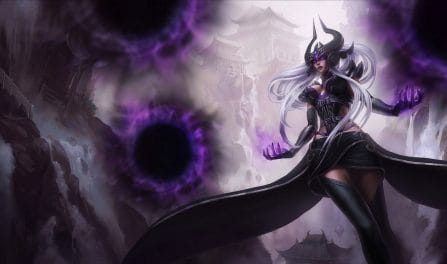 81,880 暗黑元首 Matches Analyzed
These champion statistics were prepared using 81,880 recently played, ranked 暗黑元首 games. MOBA Champion downloads ranked match results directly from Riot's own database. Having so many LoL matches to evaluate gives us great confidence in our ability to give you accurate 暗黑元首 statistics. She didn't do a good job in recent matches. She racked up a poor win rate of 47.1%.
In the current meta, 暗黑元首 is not very popular. She has been used in only 2.9% of recently ranked matches. She is rarely banned during champion select. Obviously, very few players see her as a huge threat. In recent ranked rounds, 暗黑元首 was banned 0.6% of the time.
As a result of 暗黑元首's K/D/A and utility, she has a somewhat poor overall win rate. She does best in the late game, with a winrate of NaN% in that phase. Unfortunately, she does very poorly in the late game, where 暗黑元首's win rate is NaN%., The difference between her best and worst game phases is a large NaN%. This sizeable difference makes it clear that her power spikes and fades in different phases of the match. Plan well.
暗黑元首 is played mostly in the middle position. This occurs in [object Object]% of her matches. Yet, middle 暗黑元首 has the highest win rate ([object Object]%) of all positions but is less popular of a position (played [object Object]% of the time). Currently, 暗黑元首's meta game is centered around dealing damage. In particular, her kit should mainly be focused on magical damage. Furthermore, she is an ok support champion. Dealing physical damage is the least significant part of 暗黑元首's gameplay.
You should expect to have to to spend a significant amount of time practicing and learning to pick up 暗黑元首. Most League of Legends players consider she is a tough champ to master. 暗黑元首 mostly deals magic damage (93% of her total damage). She doesn't deal a lot of other damage types and should not be played as hybrid damage dealer..
暗黑元首 deals a lot of damage in a normal game (20,355 damage). You should focus on building her as a damage dealing champ to destroy your foes.
辛德拉是一位令人胆寒的艾欧尼亚魔法师,操纵着难以置信的力量。她在孩童时期就因为狂暴而不受控制的魔法而让村庄的长老们深感不安。长老们把她送到外地接受严密的监管和训练,但她发现所谓的训练其实是对自己能力的限制。辛德拉将自己感受到的背叛与痛楚融入暗黑法球,并发誓消灭所有想要控制她的人。
She is a powerful damage dealer in the game with 6.3 kills on average each round. That is one of the highest kill rates among all middles. 'Moreover, she has a fairly typical death rate with an average of 5.9 deaths per League game. Furthermore, 暗黑元首's KDA is usually average with an average KDA ratio of 2.2 as well as 6.6 assists per game.
We comb through millions of League of Legends matches pulled directly from Riot's servers each week and analyze the data using advanced algorithms to bring you the most accurate 暗黑元首 stats online. We analyze the data by tier, so you can find the most relevant 暗黑元首 win rate and other stats.