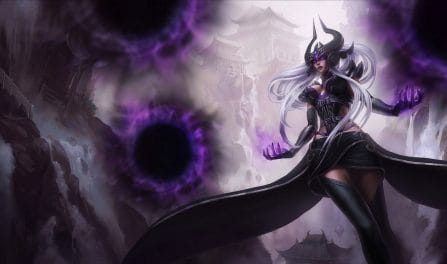 49,068 暗黑元首 Builds Analyzed
The most important items to incorporate into your Syndra build include: Luden's Tempest, Seraph's Embrace, Rabadon's Deathcap, and Cosmic Drive. Additionally, as with our rune suggestions, you can also find great, focused, Syndra item builds further down for the particular enemy team comp you are facing in your current match. Players who included these items in their setups had a greater winrate than players who tried for other builds for Syndra.
暗黑元首

Items to Defeat Focused Team Comps

电刑

恶意中伤

幽灵魄罗

无情猎手

法力流系带

超然
If you are facing a well-mixed enemy team composition, you should strongly consider getting her the Electrocute, Cheap Shot, Ghost Poro, Relentless Hunter, Manaflow Band, and Transcendence runes. In recent matches, she won the largest fraction of her matches when built with these runes. Yet, if you are facing a more single focused enemy team comp, such as an AD focused or a CC centric team, you should instead look further down to find the best Syndra runes to defeat your particular combination of foes.
暗黑元首

Runes to Beat Dedicated Enemy Teams

电刑

恶意中伤

眼球收集器

贪欲猎手

气定神闲

致命一击
We came up with our Syndra build suggestions by examining 49,068 recently ranked League matches with her selected. We only propose the highest winrate Syndra builds that have been built by ranked players enough times for us to propose them. With so many matches in our dataset, we are quite confident in our provided builds.
Additionally, to see Syndra builds specific to a unique division, choose a different rank from the dropdown menu located above. In that case, the ideal Syndra build given will be based on that division's meta.