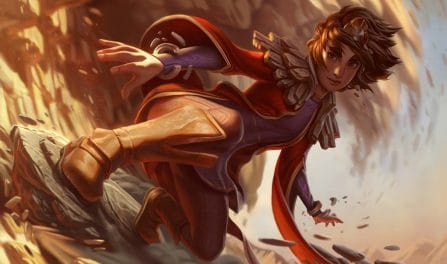 22,581 岩雀 Matches Analyzed
These champ statistics were determined using 22,581 recently played, ranked 岩雀 matches. MOBA Champion pulls ranked game summaries directly from Riot's own database. Having so many League of Legends games to evaluate gives us a lot of confidence in our ability to give you precise 岩雀 statistics. She didn't do a good job in recent rounds. She has a poor win rate of 48.7%.
岩雀 has been picked very little in recent ranked LoL games. In the current meta, her popularity is 1.2%. She is rarely banned during champ select. Obviously, very few players see her as a major threat. In recent ranked games, 岩雀 was banned 0.1% of the time.
As a result of 岩雀's K/D/A and utility, she has a somewhat poor overall win rate. She does very well in the late game, with a winrate of NaN% in that phase. Unfortunately, she does poorest in the late game, where 岩雀's win rate is NaN%., The difference between her best and worst game phases is a large NaN%. This large difference indicates that her power spikes and fades in different phases of the round. Prepare accordingly.
岩雀 is played mostly in the jungle position. This occurs in [object Object]% of her matches. Yet, jungle 岩雀 has the highest win rate ([object Object]%) of all positions but is less popular of a position (played [object Object]% of the time). Currently, 岩雀's meta game is focused on dealing damage. In particular, her gameplay should primarily be centered around magical damage. Furthermore, she is a pretty good tank champion. Dealing physical damage is the least important part of 岩雀's playstyle.
You should anticipate having to dedicate a decent amount of time practicing and learning to get good at playing 岩雀. Many League gamers consider she is an average difficulty champion to get good at. 岩雀 mostly causes magic damage (91% of her total damage). She doesn't deal a lot of other damage types and should not be considered a hybrid damage dealer..
岩雀 deals a good amount of damage in a regular ranked game (19,645 damage). You could focus on developing her as a damage dealing champion to defeat your foes.
塔莉垭是一位来自恕瑞玛的游牧民族的法师,孩子的好奇与大人的责任两股力量同时拉扯着她。她曾踏遍瓦洛兰的山山水水,只为寻得控制己身异能的法门,不过最近,她已经回到了故乡,保护生她养她的部族。有些人把她的温柔善意当做是懦弱的表现,最终也为自己的愚鲁付出了代价。塔莉垭青春稚嫩的举止背后,是一颗敢于移山填海的雄心,和一个堪能倾世的灵魂。
She is a powerful damage dealer on the Rift with 7.2 kills on average per game. That is one of the highest kill rates among all jungles. 'Moreover, she has a somewhat above average death total with an average of 6.3 deaths per League match. Additionally, 岩雀's KDA is usually high with an average KDA ratio of 2.5 as well as 8.5 assists per match.
We comb through millions of League of Legends matches pulled directly from Riot's servers each week and analyze the data using advanced algorithms to bring you the most accurate 岩雀 stats online. We analyze the data by tier, so you can find the most relevant 岩雀 win rate and other stats.