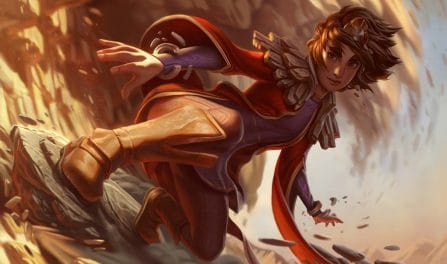 22,581 岩雀 Builds Analyzed
Our 岩雀 builds result from our evaluation of 22,581 recently ranked 岩雀 games. Only the top win rate 岩雀 builds that are also commonly used are recommended by us. Since we have so many rounds in our database, we are sure that we can give you high quality builds for 岩 to help ensure you win your next game!
Additionally, 岩雀 builds specific to a particular skill rank can be displayed by choosing another tier from the dropdown menu found above. The suggested 岩雀 build shown will be specific to that tier's meta.
The best items to include in your champion's build include: 卢登的激荡,灭世者的死亡之帽, and 中娅沙漏. Those who added these pieces in their gear had a much better winrate than those who went for other item builds for 岩雀.
Yet, like our rune suggestions, you can also find quality, focused, 岩雀 item builds below for the specific enemy team composition you are facing in your next match.
岩雀

Items to Defeat Focused Team Comps

黑暗收割

恶意中伤

眼球收集器

贪欲猎手

绝对专注

水上行走
If you are playing a well-mixed enemy team arrangement, you should really consider grabbing yourself the 主宰, and 巫术 runes. In recent games, she won the largest fraction of her matches when equipped with these runes.
However, if you are facing a more single focused enemy team composition, such as an AD heavy or a tank heavy team, you should instead scroll further down to view the best 岩雀 runes to defeat your particular enemy team.
岩雀

Runes to Beat Dedicated Enemy Teams

黑暗收割

恶意中伤

眼球收集器

贪欲猎手

绝对专注

水上行走