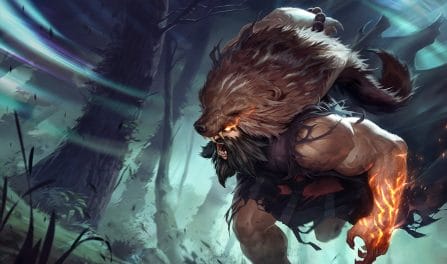 69,104 兽灵行者 Builds Analyzed
We established our 兽灵行者 build recommendations by examining 69,104 recently ranked LoL games with him selected. We only recommend the best winrate 兽灵行者 builds that were built by ranked gamers enough times for us to propose them. With so many matches in our dataset, we are very confident in our provided builds.
Additionally, to see the top 兽灵行者 build for a different skill level, please select a different skill tier from the dropdown menu above. The proposed champ builds will update to characterize that skill level's meta.
The most essential items to incorporate into your champ's build are: 神圣分离者,荆棘之甲, and 智慧末刃. Players who added these pieces in their builds had a better winrate than those who used other 兽灵行者 builds.
Moreover, similar to our rune builds, you can also find great, dedicated, 兽灵行者 item builds farther down for the specific enemy team setup you are facing in your next match.
兽灵行者

Items to Defeat Focused Team Comps

征服者

凯旋

传说:欢欣

致命一击

迅捷

水上行走
If you are battling a mixed enemy team arrangement, you should really consider grabbing yourself the 精密, and 巫术 runes. In recent matches, he won the greatest percentage of his games when built with these runes.
Yet, if you are facing a different enemy team comp, such as an AD focused or a tank focused team, you should instead browse a little below to see the best 兽灵行者 runes to defeat your particular enemy team.
兽灵行者

Runes to Beat Dedicated Enemy Teams

强攻

凯旋

传说:韧性

致命一击

迅捷

水上行走