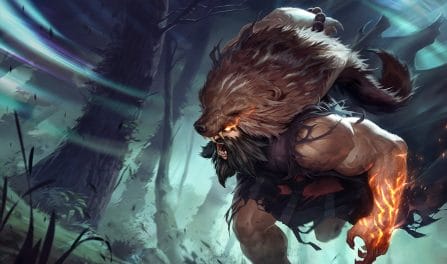 69,104 兽灵行者 Counters and Matchups Analyzed
We computed our best and worst 兽灵行者 counters with data extract from 69,104 ranked League of Legends matches. We have figured out the champs with the best and worse rates of victory when facing him. Furthermore, we found which champions can serve as valuable teammates to improve your rank.
As can be seen above, 殇之木乃伊 is the best to face off against 兽灵行者 with a 55.9% victory percentage against him. In a close second and third place, 巨魔之王 and 永恒梦魇 are the next scariest counters to 兽灵行者. These two have win rates of 55.6% and 54.1%, respectively. You should avoid taking him into a game where any of these other champions has been selected.
Conversely, if you're fighting 痛苦之拥, you probably should expect to do much better. 兽灵行者 counters them with a great win rate of 53.2%. Equally, you should anticipate doing very well against 盲僧 and 影流之镰. They have the next lowest win rates versus 兽灵行者.
If you are interested in good champ synergies for your own comrades to enhance your winrate even further, take a look at the champion synergies.
Regardless of his lane, he does very well when on the same team as 复仇焰魂. This combination typically improves his average win rate by a few percent. 远古巫灵 and 荆棘之兴 are also great champs to fight alongside.
To get the details and best 兽灵行者 counter builds about a specific matchup, you should click the corresponding row in one of the tables above. If you are looking for any 兽灵行者 counters that aren't listed here, you can click the "All Matchups" button to view details on all potential counters.
To view 兽灵行者 pairings and counters from a particular skill level, you should use the dropdown menu above to narrow the counter stats provided.
我们每周直接从拳头公司的服务器搜集数百万局比赛数据。用经典的统计方法和先进的机器学习算法,归纳出最准确最符合当前版本的兽灵行者的克制和搭配关系。