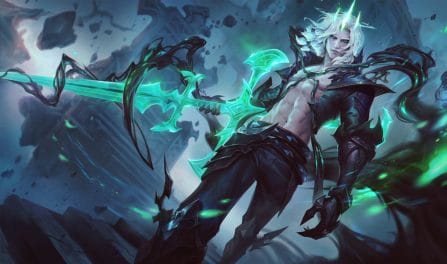 196,016 破败之王 Matches Analyzed
These champion statistics were calculated using 196,016 recently played, ranked Viego matches. MOBA Champion pulls competitive game results directly from Riot's servers. Having so many League games to analyze gives us great confidence in our ability to give you precise Viego stats. They did do a good job in recent rounds. They racked up an average win rate of 50.0%.
In the current meta, Viego is very popular. They have been selected in 6.5% of recently ranked games. They are very often banned during champ select. Obviously, most players see them as a significant threat. In recent ranked games, Viego was banned 13.0% of the time.
They are a powerful damage dealer on the Rift with 7 kills on average each round. That is the 11th highest kill rate among all jungles. (There are 39 champ in totals that are usually played in in the jungle position.) Additionally, they have a relatively high average death rate (6 deaths; 18th out of all jungles). Additionally, Viego's KDA is usually average with an average KDA ratio of 2.3 as well as 6 assists per match. This is the 35th highest assist count among jungle champs.
Our calculated overall Viego win rate is the 19th highest amonst jungles. They are most dominant in the mid phase of the game with a 50.3% win rate in that stage. In comparison, they have a 49.0% win rate in the late phase and a 50.0% winrate overall. There is only a small difference between these Viego win rates (1.3%). This small difference indicates that theirs relative power is consistent throughout an entire match.
You can find them most often played in the jungle position. The top win rate position for Viego is jungle (50.4%). Currently, Viego's meta game is focused on dealing damage. In particular, theirs build should primarily be focused on physical damage. Dealing magical damage is the least significant part of Viego's kit.
You should expect to have to to dedicate a decent amount of time practicing and learning to learn Viego. Most LoL players believe they are an average difficulty champion to use. Viego mostly deals physical damage (80% of theirs total damage). They doesn't deal a significant amount of magical damage and should not be played as a hybrid damage dealer.
Viego deals a decent amount of damage over the course of a typical round (16,447 damage). You could focus on building them as a powerful champion to defeat your foes.
Once ruler of a long-lost kingdom, Viego perished over a thousand years ago when his attempt to bring his wife back from the dead triggered the magical catastrophe known as the Ruination. Transformed into a powerful, unliving wraith tortured by an...
We comb through millions of League of Legends matches pulled directly from Riot's servers each week and analyze the data using advanced algorithms to bring you the most accurate 破败之王 stats online. We analyze the data by tier, so you can find the most relevant 破败之王 win rate and other stats.