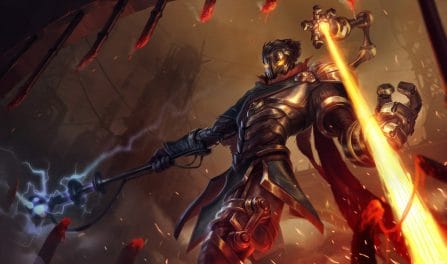 100,304 机械先驱 Matches Analyzed
These champ statistics were determined using 100,304 recently played, ranked 机械先驱 matches. MOBA Champion downloads ranked match data directly from Riot's own database. Having a large number of LoL matches to analyze gives us great confidence in our ability to give you precise 机械先驱 stats. He did do a great job in recent rounds. He has a decent win rate of 51.1%.
机械先驱 has been used only occasionally in recent ranked League of Legends games. In the current meta, his popularity is 3.3%. Hardly anyone sees him as a threat. He has only been banned in about 0.6% of League rounds.
As a result of 机械先驱's K/D/A and utility, he has a pretty good overall win rate. He does best in the late game, with a winrate of NaN% in that phase. Unfortunately, he does terribly in the late game, where 机械先驱's win rate is NaN%., The difference between his best and worst game phases is a large NaN%. This large difference indicates that his power spikes and fades in different phases of the match. Prepare accordingly.
机械先驱 is most commonly played in the middle position. This occurs in [object Object]% of his games. Middle 机械先驱 also has the highest win rate ([object Object]%) of all positions. At this time, 机械先驱's meta game is focused on dealing damage. Specifically, his kit should mainly be centered around magical damage. Dealing physical damage is the least critical part of 机械先驱's kit.
If you are not comfortable with his abilities and gameplay, you probably will find it difficult trying him out for the first time. Many players believe him to be a difficult champ to get good at. 机械先驱 mostly does magic damage (96% of his total damage). He doesn't deal a lot of other damage types and should not be played as hybrid damage dealer..
机械先驱 deals a lot of damage in a typical game (22,962 damage). You should focus on developing him as a damage dealing champion to crush your foes.
他是崭新科技时代的领路先驱,将自己毕生精力奉献给了人类的进步。他是寻求人性启迪的理想主义者,信奉着唯有光荣进化才能实现人类全部的潜能。在钢铁与科学的加持之下,维克托狂热地追求着自己理想中的光明未来。
If you are looking for a dominating carry, then you should definitely consider this champ. He has one of the absolute best kill counts in League among all champs. Furthermore, he has a fairly typical average champion death rate (5.6 deaths). Moreover, 机械先驱 has an average KDA ratio (2.4) with 7.1 assists.
We comb through millions of League of Legends matches pulled directly from Riot's servers each week and analyze the data using advanced algorithms to bring you the most accurate 机械先驱 stats online. We analyze the data by tier, so you can find the most relevant 机械先驱 win rate and other stats.