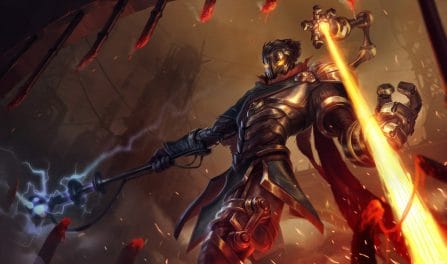 100,304 机械先驱 Builds Analyzed
Our 机械先驱 builds come from our analysis of 100,304 recently ranked 机械先驱 games. Only the best win rate 机械先驱 builds that are also in common use are recommended by us. Since we have so many matches in our database, we are absolutely sure that we can produce high quality builds for 驱 to help ensure you win your next round!
Additionally, to view the best 机械先驱 build for a different skill rank, you can pick a different skill tier from the dropdown above. The calculated 机械先驱 builds will change to characterize that skill level's meta.
The most critical items to incorporate into your champion's build are: 卢登的激荡,灭世者的死亡之帽, and 巫妖之祸. Those who added these items in their setups had a higher win rate than those who tried for other 机械先驱 builds.
Additionally, like our rune suggestions, you can also find quality, focused, 机械先驱 item builds a little further down for the specific enemy team composition you are facing in your next game.
机械先驱

Items to Defeat Focused Team Comps

相位猛冲

法力流系带

超然

风暴聚集

神奇之鞋

未来市场
If you are facing a varied enemy team comp, you should really consider grabbing yourself the 巫术, and 启迪 runes. In recent games, he won the largest number of his matches when using these runes.
Although, if you are facing a different enemy team comp, such as an AP focused or a crowd control centric team, you should instead browse a little below to get the best 机械先驱 runes to win your particular round.
机械先驱

Runes to Beat Dedicated Enemy Teams

相位猛冲

法力流系带

超然

风暴聚集

神奇之鞋

未来市场