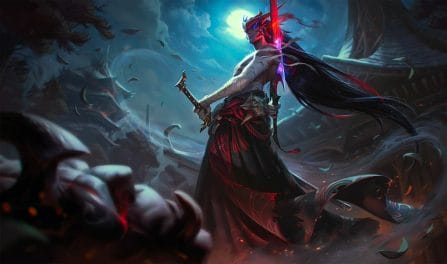 286,491 封魔剑魂 Matches Analyzed
These champ stats were determined using 286,491 recently played, ranked 封魔剑魂 matches. We pull ranked match data directly from Riot's own database. Having so many LoL games to evaluate gives us great confidence in our capability to provide accurate 封魔剑魂 statistics. Across all games, he did do very well, with an average win rate of 50.5%.
封魔剑魂 has been used a lot in the latest ranked League matches. In the current meta, his popularity is 11.3%. Most League players see him as a danger. He has been banned in approximately 15.3% of LoL rounds.
Thanks to 封魔剑魂's K/D/A and utility, he has a fairly average overall win rate. He does very well in the late game, with a winrate of NaN% in that phase. Unfortunately, he does poorest in the late game, where 封魔剑魂's winrate is NaN%., The difference between his best and worst game phases is a large NaN%. This sizeable difference indicates that his power spikes and fades in different phases of the game. Prepare well.
封魔剑魂 is most commonly played in the middle position. This happens in [object Object]% of his rounds. Middle 封魔剑魂 also has the highest win rate ([object Object]%) of all positions. Currently, 封魔剑魂's meta game is centered around dealing damage. In particular, his build should primarily be centered around physical damage. Supporting others and crowd control are the least critical part of 封魔剑魂's playstyle.
You should expect to have to to dedicate a significant amount of time practicing and learning to master 封魔剑魂. Many League of Legends players believe he is a challenging champ to use. 封魔剑魂 primarily deals physical damage (65% of his total damage). He also deals a large amount of magic damage.
封魔剑魂 deals a decent amount of damage in a normal match (19,934 damage). You may want to focus on developing him as a damage dealing champion to destroy your enemies.
生前,他是永恩,是亚索同母异父的哥哥,是故乡剑术道场的知名弟子。但当他死在弟弟手下以后,却发现自己被精神领域中的恶毒灵体所侵扰,不得不用它自己的刀剑将它弑杀。如今,被诅咒的永恩戴上了它的恶魔面具,开始了不懈的追猎,他要猎尽所有同种的恶魔,从而查清自己究竟成为了什么。
He is a powerful damage dealer in the game with 7.2 kills on average each round. That is one of the highest kill rates amongst all middles. Additionally, he has a fairly high average champion death count (6.5 deaths). Furthermore, 封魔剑魂's KDA is usually low with an average KDA ratio of 2.0 as well as 5.7 assists per match.
We comb through millions of League of Legends matches pulled directly from Riot's servers each week and analyze the data using advanced algorithms to bring you the most accurate 封魔剑魂 stats online. We analyze the data by tier, so you can find the most relevant 封魔剑魂 win rate and other stats.