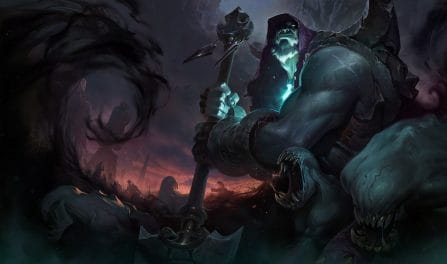 140,699 牧魂人 Builds Analyzed
We set our 牧魂人 build recommendations by examining 140,699 recently ranked League matches with him selected. We only recommend the highest winrate 牧魂人 builds that have been built by ranked LoL players enough times for us to propose them. With so many matches in our data, we are very confident in our recommended builds.
Additionally, to see the best 牧魂人 build designed for a different skill division, please select a different skill tier from the dropdown above. The proposed champion builds will change to capture that division's meta.
The most important items to incorporate into your champ's build are: 神圣分离者,斯特拉克的挑战护手, and 赛瑞尔达的怨恨. Players who added these items in their builds had a significantly better win rate than players who worked towards other 牧魂人 builds.
Yet, like our rune setups, you can also find great, focused, 牧魂人 item builds a little further down for the particular enemy team composition you are facing in your next game.
牧魂人

Items to Defeat Focused Team Comps

不灭之握

爆破

复苏之风

过度生长

传说:血统

坚毅不倒
If you are playing a varied enemy team comp, you should strongly consider getting 牧魂人 the 坚决, and 精密 runes. In recent games, he won the largest number of his matches when equipped with these runes.
Although, if you are playing a more focused enemy team comp, such as an AD heavy or a crowd control focused team, you should instead look a little below to get the best 牧魂人 runes to defeat your particular combination of foes.
牧魂人

Runes to Beat Dedicated Enemy Teams

征服者

凯旋

传说:血统

坚毅不倒

爆破

骸骨镀层